Half of all TV and on-demand viewing will be consumed on mobile screens by the year 2020, according to new research released Monday by Ericsson ConsumerLab, which also found that people are becoming increasingly open to virtual reality (VR) tech.
By the same year, the global survey suggested, one in three people will be VR users. It also said that mobile TV viewing – content viewed on smartphones, tablets and laptops – represented the next major shift for the media industry – with use spiking 85% since 2010.
ConsumerLab collected data from approximately 20,000 online interviews with people aged 16-69 from 13 countries including the US, UK, China and Russia.
All respondents had a broadband internet connection at home, regularly watched TV video content and used the web on an almost daily basis, the firm said.
The experts claimed that the worldwide analysis was, as a result, representative of more than 1bn people.
"Consumers are not only watching more video but also changing how and when they do so," noted Anders Erlandsson, senior advisor at ConsumerLab.
The report found that time spent watching TV and video content had now reached an all-time high of 30 hours a week.
Roughly 60% of viewers prefer on-demand services over traditional television channels and are becoming used to not seeing advertisements.
That's good news for services like Netflix and Hulu.
Portability is becoming an increasingly important factor for people, with more than a third of consumers wanting access to content when abroad.
It's of little surprise, therefore, that smartphones are getting the love. The survey suggested that 70% of people now watch videos on such devices – double the amount from 2012 and a fifth of total TV and on-demand viewing.
It said that 16-19-year-olds watch the most content each week and this is mostly made up of on-demand content – or streaming videos from platforms like YouTube.
Researchers found that the immersive qualities of VR will continue to change how people consume content. While gaming firms including Microsoft and Sony currently lead the charge on VR –the headsets are likely to soon see wider adoption in the market.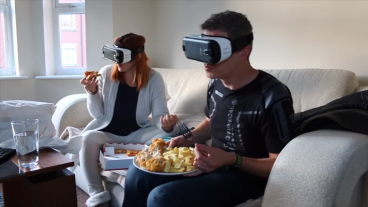 "This [is] the first time we have explored the level of consumer interest in VR in conjunction with media consumption, and the findings have been fascinating," Erlandsson said.
"VR has the potential to bring together people from all over the world and create deeper, more personalised, and more complementary, media experiences."
The annual survey said that more than half (55%) of consumers planning to purchase VR would still prefer cheaper prices and more content to be widely available.
Another variable was the adoption of 4K video, with just under a quarter of people saying they already have access to a TV capable of showing the resolution.
"As consumer expectations for on-demand, mobile and immersive viewing continues to increase, the TV and media industry must focus on delivering highly personalised services in the very best possible quality," Erlandsson concluded.