Cosmetics and beauty company Dove has apologised after promoting an advertisement on Facebook that was widely condemned as racist.
The controversial advertising campaign, which circulated quickly across social media, showed a black woman taking off her t-shirt to reveal a white woman underneath. Another now-removed image showed the white woman undressing to show an Asian woman.
Amid mounting backlash across both Facebook and Twitter, Unilever-owned Dove tweeted: "An image we recently posted on Facebook missed the mark in representing women of colour thoughtfully.
"We deeply regret the offence it caused."
The pictures first started to spread on Friday (6 October) after being posted online by an American makeup artist using the name Naythemua.
"So I'm scrolling through Facebook and this is the #dove ad that comes up.... ok so what am I looking at," she wrote to her Facebook followers.
As the debate roared in the comments section, some pointed out that Dove's marketing team was likely attempting to show the product could be used by everyone.
But Naythemua hit back, arguing "the tone deafness in these companies makes no sense."
She continued: "We are judged by the colour of our skin and that includes what is considered beautiful in this country [...] they believe lighter representations should be at the forefront and that the darker you are the less beautiful [you are]."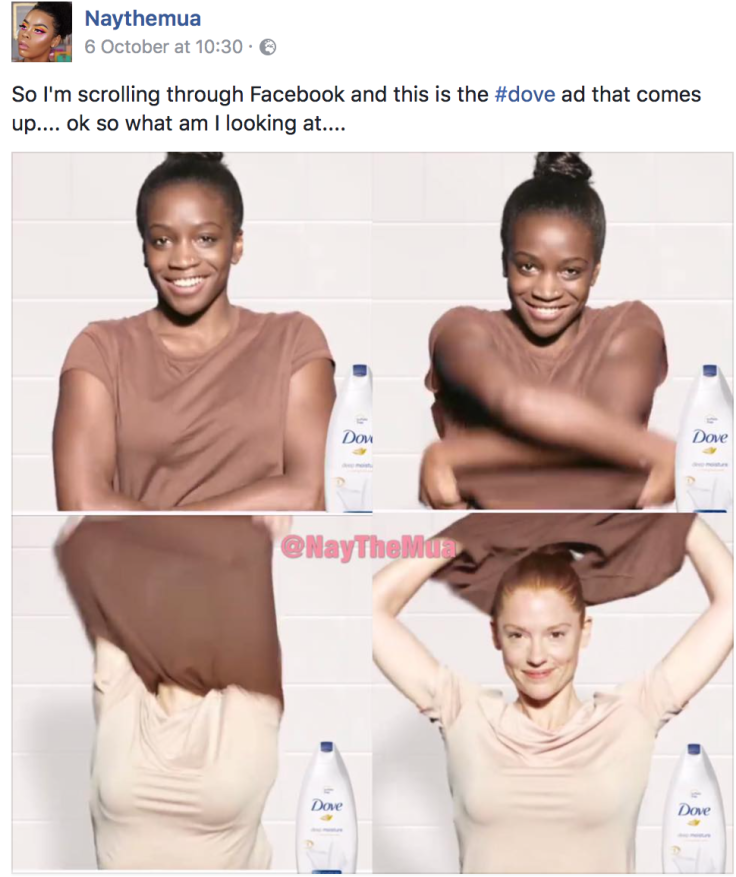 In response to the criticism, Dove's Facebook account published a separate apology.
It read: "Dove is committed to representing the beauty of diversity. In an image we posted this week, we missed the mark in thoughtfully representing women of colour and we deeply regret the offence that it has caused.
"The feedback that has been shared is important to us and we'll use it to guide us in the future."
Despite the numerous apologies from the firm, many online were not satisified. "Several people at @Dove looked at this ad and thought it was good to post. Not one thought, "ya know...this might not be a good look?" one post on Twitter read.
Another person wrote: "I deeply regret that I won't be able to use your products anymore. The apology is almost as tone deaf as the ad."
It's not the first time that the cosmetics brand has faced a backlash over racial issues. Two years ago, Dove was slammed for promoting a product for use on "normal to dark" skin.
Back in 2011, one Dove ad campaign showed a before and after image of a black woman's complexion transforming into that of a white woman after using a body wash product.