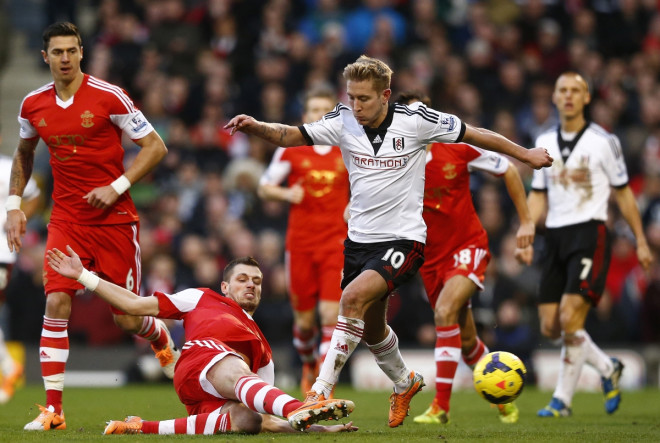 Southampton midfielder Morgan Schneiderlin admits he could be tempted by the opportunity to join a "great club" like Arsenal in the future.
The 24-year-old has been an integral part of the Saints' midfield since his arrival from Strasbourg in 2008, playing a crucial role in the club's rise from League 1 back to the Premier League.
Like many of the club's burgeoning talents, Schneiderlin has attracted envious glances from clubs elsewhere in the top flight and the Frenchman admits a move away from St Mary's in the future is possible, singling the Gunners out as a possible destination.
"This is my best season in England. I have the chance to play in a team that runs well with a coach who preaches good football. I'm happy," the Saints midfielder told RLT, Foot Mercato report.
"Arsenal? I have a three year contract, then it will not be easy. It is also my dream to one day play for a great club, so why not?"
Despite his impressive performances in the Premier League Schneiderlin has passed under the radar of France coach Didier Deschamps. But having been an integral member of the Saints midfield for the past six years, the 24-year-old would be eligible to represent England should he ever feel that way inclined.
But despite so far being overlooked by his countrymen, Schneiderlin admits he has little desire to swap allegiances and link up with club mates Luke Shaw, Jay Rodriguez, Rickie Lambert and Adam Lallana with the Three Lions, and will continue to patiently wait for a call up to Les Blues.
When asked of reports suggesting he would be interested in representing England, Schneiderlin said: "These are the English tabloids. I answered a simple question. They asked me a bunch of questions about the selection. The next day I open the newspaper and I see that I said that I wanted to play for England.
"This is completely false. I always want to wear the jersey of the team of France and not that of England.
"This is only my second season in the Premier League. I work and maybe one day I will be more exposed. I know I am not known in France because I started (at Southampton) very young.
"I realise that few people know me. But I do not regret leaving for England because it made me the player I am. My performances get fewer views because I play for Southampton, who are not very well known in France. I hope they will be talking about me soon."