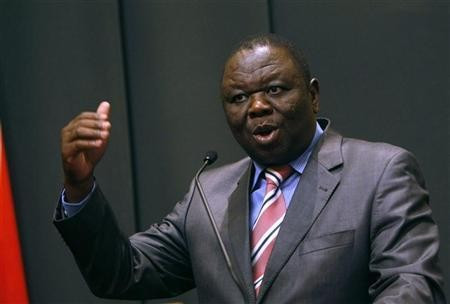 Zimbabwean Prime Minister Morgan Tsvangirai says he has separated his wife of 12 days, citing a "greater and thicker plot" by state agents and the media which deeply damaged their relationship.
Tsvangirai released a statement late Wednesday saying his marriage with 39-year-old Lorcadia Karimatsenga had been "irretrievably damaged to a point where marriage is now inconceivable".
The 59 year-old politician was referring to the traditional wedding he had with Karimatsenga on November 18.
At the time his representative announced the PM had paid a bride price of several thousand dollars and cattle.
However, the wedding caused a stir among Shona traditionalists who explained that couple were usually prevented from marrying in November as they believe it brings bad luck.
"In our Shona culture what the Prime Minister has done is considered taboo. These practices (of not having ceremonies in November) must be followed by everyone because they result in penalties," Chief Mtekedza sa told the Zimbabwean press soon after the announcement of the wedding.
Some even demanded Tsvangirai be taken to the traditional courts as a result of the offence.
"We consider this as a dark sin in our culture and the Prime Minister together with the in-laws who opened their hands for lobola (bride price) should be brought before the traditional courts to answer for their actions," said Chief Chivero of Mhondoro
Since the ceremony, paparazzi have continually followed the bride and her husband trying to get a glimpse of the couple's new life and it seems that the backlash coupled with the media's constant interest motivated the PM's U-turn.
"I was well-meaning and had good intentions to rebuild my family and start a new lease of life following the tragic passing on of my (first) wife. But since the day (I married), everything has been played in the press and I have become an innocent bystander.
"I have become a spectator and things are happening too fast, on camera and without my knowledge.
"This has led me to conclude that there is a greater and thicker plot around this issue which has undermined my confidence in this relationship," he said.
Soon after the wedding, Zimbabwean media had also announced that the bride was pregnant with reports saying she was expecting twins. Out of wedlock pregnancy often carries a stigma in Zimbabwe and many commentators said it might have precipitated the couple's marriage.
Tsvangirai hinted his ex-partner had 'claimed' she was pregnant but provided no further information.
"At a certain stage, she claimed that she was pregnant and that I had to be introduced to her family to own up and accept responsibility according to our culture and tradition," added Tsvangirai.
In a rare show of support, earlier on Wednesday President Robert Mugabe, Tsvangirai main political enemy, asked the media to respect the PM's private life.
"Everyone has a right to do what he wishes. But Tsvangirai is being targeted and mobbed by the media every day. Please leave him alone," he told journalists.
Tsvangirai's first wife died in 2009 in a car accident, which he survived.