Throughout most of Britain, Twelfth Night is seen merely as the date on which to take Christmas decorations down. However, in pockets of rural England, it is a major celebration, with customs dating back hundreds of years. One tradition sees morris dancers staging a torchlit wassailing ceremony in an orchard to ensure a good crop of cider apples for the year ahead.
Getty Images photojournalist Matt Cardy travelled to Tenbury Wells in Worcestershire to photograph a wassailing ceremony performed by the Leominster Morris, dressed in the traditional Welsh Border Morris winter kit of black shirts and trousers with brightly coloured print jackets and blackened faces.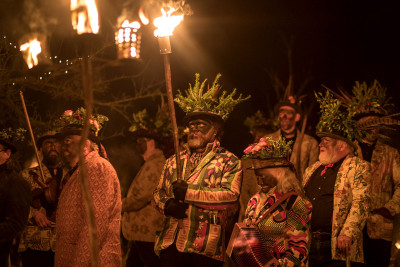 The origins of the blackface are unclear. One theory is that it was a way of imitating the Moors of Morocco – the word 'morris' is thought to derive from the late Middle English word 'morys', meaning moorish. Some people think the blackface is a more recent thing, inspired by the popularity of American minstrel shows. Others believe it was a simple disguise to provide anonymity. It is possible that some or all of these things were true at some stage and its meaning has changed over the centuries from mimicry to disguise to minstrelsy. Whatever its origin, it is now a proudly held Welsh Border Morris tradition.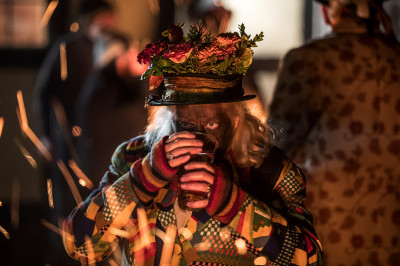 The custom of wassailing, which differs from place to place in cider producing counties, has its roots in ancient pagan traditions and is held after Christmas as a plea to the spirits of the orchard to provide a good crop. It is seeing something of a modern revival as cider makers across the West Country – in this case Oldfield Orchard Cider – reintroduce the ritual of toasting their apple trees for good luck.
The morris dancers and mummers performed a ceremony that involved placing a cider-soaked piece of Christmas cake on the branches of an apple tree and sprinkling cider around its roots, before lighting torches, dancing and singing the Wassail Song as to ensure a good crop of cider apples for the year ahead.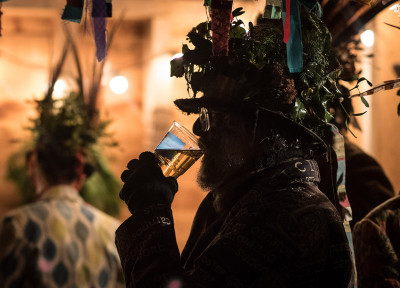 Twelfth Night, celebrated on 5 January, is generally observed as the last day of Christmas festivities as it is the eve of the Epiphany.