Tottenham Hotspur have been warned that midfielder Dele Alli will surpass Barcelona's Lionel Messi and become the world's most sought-after player. The 20-year-old is enjoying a successful second campaign at White Hart Lane, and having already beaten his goal tally from last season comparisons are already being drawn between him and Manchester United's Paul Pogba.
Alli has gone from League One starlet with Milton Keynes Dons to a key player for club and country in the space of less than two years. Such were Alli's performances in his maiden campaign in the Premier League he won a place in the England squad for the European Championships and scooped the PFA Young Player of the Year prize.
Performances this season have only worked to enhance his reputation, leading to speculation regarding his future at Tottenham. And former Liverpool and Wales striker Dean Saunders, who watched from afar as fellow-countryman Gareth Bale went from the Football League to global stardom, believes Alli is set to tread a similar path.
"Dele Alli is improving week-in week-out and is going to be worth an absolute fortune," he told Talksport. "If he keeps going the way he is going, he's going to be the most wanted midfield player in the world. When you say in the world, you're including players like Lionel Messi and the rest of them, but Alli is the one they'll want to buy – so what value do you put on him then?"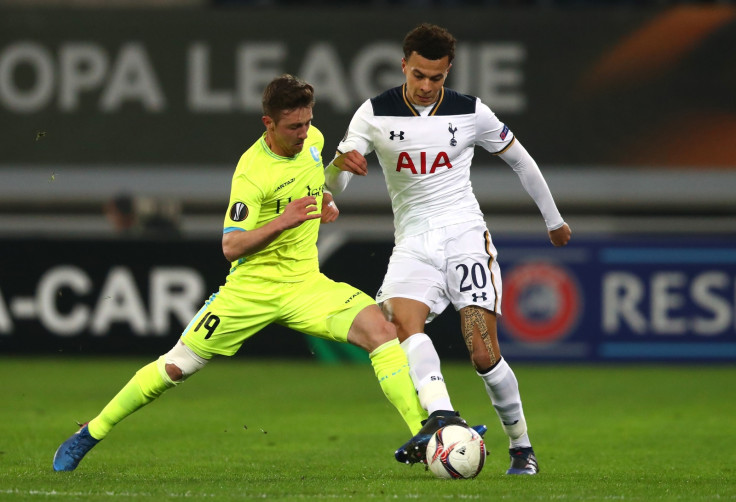 United were among the first clubs to experience the wrath of Alli during his spell in the lower leagues, when he featured in an MK Dons side who dumped them out of the EFL Cup in 2014 with an emphatic 4-0 win. Former Tottenham boss Harry Redknapp believes the Old Trafford club made a huge mistake not to sign up Alli after his display, and admits he is already worth more than the world's most expensive player.
"I think he's fantastic," he told Talksport. "Can you tell me how all those scouts failed to spot him when he was playing for MK Dons every week? How did they end up waiting until Tottenham came in for him? It's incredible that no-one took him. What a player, what a signing – what a steal at £5m.
"I think he's worth £100m now. If Pogba's worth £90m, Alli is worth more. He's just 20 years of age, for heaven's sake, and the kid's got everything. He scores goals, makes goals, he can dribble, head it, he's got an edge to him and puts his foot in... I think he's fantastic.
"Didn't he play for MK Dons against Manchester United when they beat them 4-0 in the League Cup? United should have signed him there and then. At least they would have gone home disappointed with the result but they would have had a future star for the club with them on the bus."