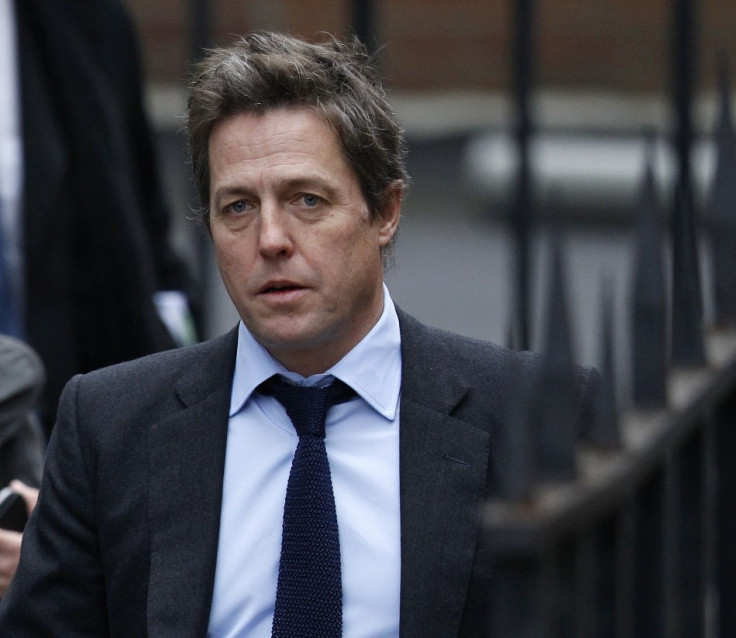 The mother of Hugh Grant's newborn child couldn't leave her house for three days as she was "besieged" by papparazi, the actor has told the Leveson Inquiry.
Grant's said that after consulting his lawyer, it was thought that they may be able to take some action if they could identify some of the paparazzi involved in the "stakeout".
His son's 61-year-old grandmother went to take a photo of a paparazzo waiting in a car. The photographer got angry, hurled abuse at her and "menaced" her with his car by driving at her.
After an emergency injunction sought by Grant, they are now being left alone.
The paparazzi "stop at nothing... show no mercy... [and] have no ethics," he added.
Grant is giving his evidence to the Leveson Inquiry as a "core participant". He's telling the inquiry about his experiences of press intrusion.
He said that he had tried to prevent the story about his child coming out in the press by refusing to comment.
Eventually, the story featured in an American magazine and was picked up by the tabloid press in Britain.
He felt he had to release a comment to prevent a "twisted" version appearing, presenting the mother as a "jilted" girlfriend.
After visiting the house to see the child, Grant says he inadvertently "brought down a press storm on the mother's head".
"My overwhelming motive throughout the whole of this was to protect the mother of my child from a press storm," he said.
Another troubling story in Grant's dealings with the press is from the mid-1990s when someone broke into his flat.
Nothing was stolen, but Grant called the police who visited twice over the following two days.
An article then appeared containing details of the interior of his flat. Grant questioned how the journalist would know, unless they had been involved in the break-in or the police had tipped them off.
It was well known to celebrities, he said, that if you call the police to report a crime "chances are that a photographer or reporter would turn up before a policeman", citing an example where an ex-girlfirend was mugged and called the police, only for a photographer to turn up first.
Grant also spoke of having details of his health published by two newspapers in 1996 as being a "gross intrusion into my privacy".
"No British citizen would expect their medical records to be made public, or expropriated by a newspaper for commercial profit," he said.
He said he didn't know how they got details of a health complaint.
"Maybe it was a lucky guess," Grant said sarcastically.
There was also an article in the Mail on Sunday while he was in a relationship with heiress Jemima Khan, saying they were having troubles because of Grant's "flirtatious" phone calls with a "plummy-voiced Warner Brothers executive".
Grant said this was totally untrue. He had been speaking with the assistant of an executive at a production company with links to Warner Brothers, who had been calling him about work.
He said she was English and they joked about English things "like Marmite" and would leave messages on behalf of her boss.
"I cannot, for the life of me, think of any conceivable source for the story other than those voicemail messages on my phone," he said.
In 2004, a representative from the Information Commissioner's Office (ICO) turned up at his home "out of the blue" to tell Grant that his personal details had featured in the notes of a private investigator.
Grant recalled this as an address, phone numbers and pins. He said the ICO representative told him it "looks like, from his notebook, that he works for most of the British press".
Robert Jay QC pointed out that the ICO later said there was no evidence that Grant's phone was hacked.
At a meeting with police earlier this year in relation to Operation Weeting, the inquiry into the scale of hacking at the now-defunct News of the World, other evidence was revealed that a private investigator had Grant's old phone numbers and pin numbers, as well as the names and numbers of people he was linked to.
In the morning session before Grant's appearance, the parents of murdered schoolgirl Milly Dowler gave evidence to the inquiry.