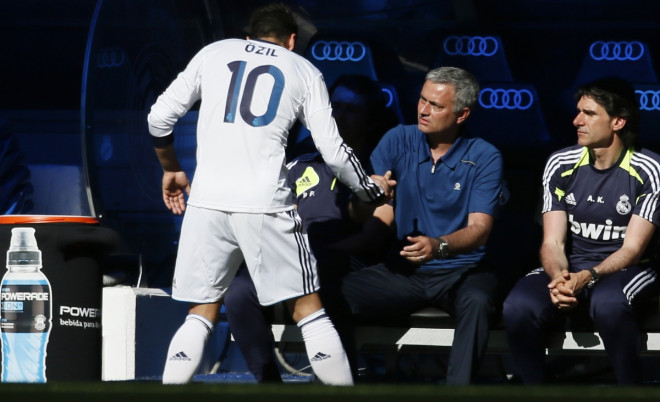 Jose Mourinho has told Mesut Ozil to ignore the heavy criticism he is receiving at Arsenal and move to Chelsea at the end of the season, reports in Spain claim.
Ozil played a pivotal role during Mourinho's time at Real Madrid, garnering a reputation as one of the most talented playmakers around Europe.
Last season the German international scored 10 goals and grabbed 23 assists in all competitions for Los Blancos and despite some reports suggesting they had a bad relationship, Ozil recently revealed Mourinho sent him a 'Welcome to London' message when he arrived at Arsenal last September.
According to Spanish newspaper Daily AS, Mourinho maintains a close relationship with Ozil and has told him that he will make every effort to secure his signature in the summer.
"Mourinho loves to keep in touch with his former players, sending them messages and this is what has been done with Özil." AS reports.
The Chelsea boss is trying to take advantage of Ozil's situation at the Emirates, where he has received heavy criticism for his recent poor performances. Some pundits have even suggested Wenger should sell Ozil, less than a year after paying a club-record £42m for him.
To support the theory that Mourinho wants Ozil back, AS reports that the Portuguese boss made a big show of embracing and consoling the player during Chelsea's 2-0 victory over Arsenal in the Capital One Cup.
Mourinho asked the former Real Madrid star for his No.11 Arsenal shirt, and gave the Germany international a big hug after the game.
Earlier this season, with Ozil impressing all during his first appearances at the Emirates, Mourinho said: "Mesut and the evolution of the other players can transform Arsenal into champions.
"Mesut is a phenomenal player. He's one of these players that you buy to complete the puzzle of your team. You don't need time, you need nothing. The player just arrives. You have an empty space waiting for him, you put the player there and you know automatically that your team becomes better.
"He arrived, Arsene gave him the shirt, he immediately started playing and immediately the team became better.
"It's impossible to stop him for the entire game as these kinds of players always have a moment, or couple of moments, where you cannot stop them and they end up showing why they are so good."