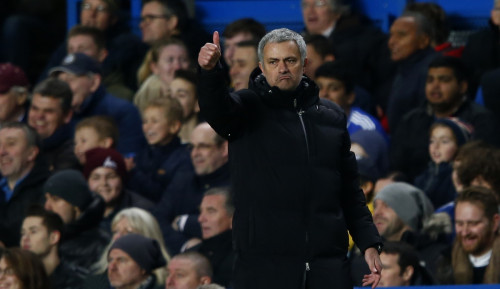 Jose Mourinho has revealed that he would like Liverpool to win the Premier League title if Chelsea fail as he is good friends with Brendan Rodgers and respects the work he has put in.
Chelsea are currently top of the Premier League table, one point ahead of Arsenal and two ahead of Manchester City with 13 games to go till the end of the season.
The west London club siezed the top spot from the Gunners after they the Reds beat Arsenal 5-1 at Anfield, allowing the Blues to leapfrog the north London club.
However, Chelsea failed to build on their lead and drew their game against West Bromwich Albion 1-1 but kept their position as the Gunners failed to put one past Manchester United at the Emirates, finishing the game at 0-0.
Mourinho refuses to accept that the Blues are favourites for the title and believes that they are still a work in progress as they do not have the ability to finish off games, as was evident in their draw against West Ham and West Bromwich Albion in consecutive games.
The Portuguese manager has put further pressure on Arsene Wenger by stating that he has a bunch of very mature players and should be taking the league by storm.
"If we don't win it I would prefer Brendan to win it because he is my friend. When I play against my friend I want to win and he wants to win. But if I don't win, I would like Brendan to do it.
"We are a team that if we had that last "click", that click is to put the ball in the net, then I would say to you that we are favourites. Our team is going in a very good direction but at this moment I would not say we are favourites, but we are candidates," Mourinho said.
Arsenal have spent many, many years working together making these players grow up. Jack Wilshere, Alex Oxlade-Chamberlain, Theo Walcott and Kieran Gibbs — they are not kids any more. They were kids but now they are mature players.
The manager, with this group of players, four, five or six years working with these players and then adding fantastic players like Mesut Ozil, Santi Cazorla or Per Mertesacker, they are a very good team," he concluded.