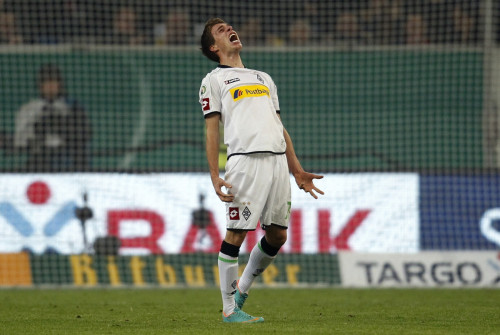 Manchester United manager David Moyes may be forced to cancel a weekend scouting mission to Germany after Borussia Monchengladbach duo Max Kruse and Patrick Herrmann both denied interest in joining the Premier League champions in the January transfer window.
With United out of the FA Cup and not playing in the Premier League until 28 January, reports had suggested Moyes was planning a trip to Germany this weekend to watch the Monchengladbach duo as he continues to plot moves in the remains nine days of January.
However, both Kruse, 25, and Herrmann, 22, have denied any interest in moving to United this month despite being flattered by the rumoured attention from the English giants.
"Manchester? I don't think that'll be an issue any time soon," Kruse told Bild.
Herrmann added to Rheinische Post: "It, of course, honours me to be linked to such a club.
"But a winter transfer is absolutely no issue for me. I feel fine here at Borussia, we are playing an outstanding season."
"You should never say never," he said. "But the Bundesliga is one of the strongest leagues in the world."
The double rejection represents the latest blow to Moyes in the transfer window which is rapidly representing a huge disappointment to those United fans who expected a flurry of activity to help bolster the club's Champions League challenge.
Having fallen 14 points behind leaders Arsenal following the 3-1 loss to Chelsea, Moyes' squad is in significant need of surgery however it appears the majority of his work will be down in the summer with a rumoured £200m spending spree reportedly in the offing.
Moyes, who has been spotted scouting players in both France and Italy during the last fortnight, has defended both trips, claiming they were merely to appease his love for the game; creating greater uncertainty over his January plans.
"Well, I'm a football nut anyway," the United boss said. "I watch football all the time. Obviously, I'm going to look to see what is out there and also see what teams are doing.
"It's given us all a chance and the staff have been out and about. But January is a difficult month to bring people in, as I have said many times. All the work has really been done prior to January."