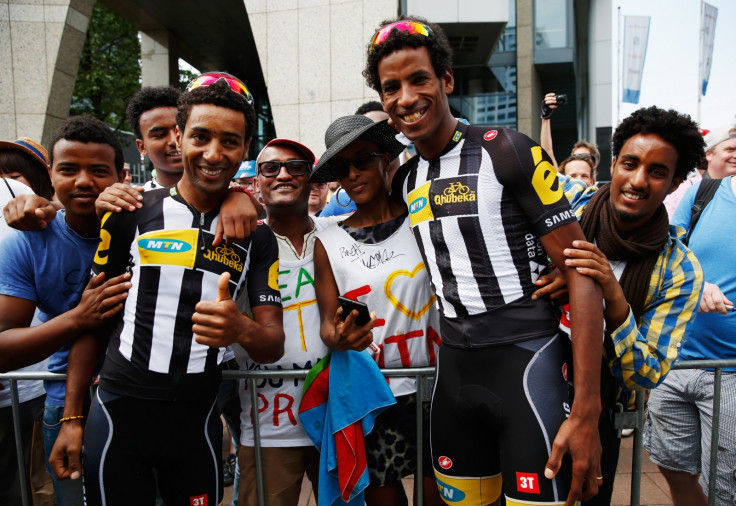 It should have been the greatest day in the short history of the MTN-Qhubeka cycling team, the African trailblazers at the Tour of France.
But while Eritrean Daniel Teklehaimanot was making history in becoming the first black African to wear the leader's jersey, controversy was spilling out at the Tour of Austria.
Another of MTN-Qhubeka's riders Natnael Berhane was subject to abhorrent racial abuse, alleged to have been called a 'f*****g n****r' by Belarusian rider Branislau Samoilau, of Pro-Continental team CCC-Sprandi-Polkowice.
Samoilau, 30, has paid a month's salary to the Qhubeka charity that aims to help take Africans out of poverty by mobilising them via bikes, though he has continued in the race.
It is not the first time allegations of racism against black cyclists, still rare in a predominantly white sport, have been made.
Even on the 2014 Tour de France, Switzerland's Michael Albasini is alleged to have called 27-year-old Kevin Reza, a black French rider, a "dirty negro" while they were in an escape group.
Albasini, 34, denied the claims, and no investigation is understood to have taken place but Reza's Europcar general manager Jean-René Bernaudeau was furious at the comments, saying at the time: "I do not tolerate racism. After doping, it is the other scourge of the sport."
Cycling under the microscope
Whether racism is endemic in cycling is an issue that has not been addressed, though further incidents will surely put cycling under the microscope as football has and force the sport's governing body, the UCI (Union Cycliste Internationale), to act.
MTN-Qhubeka, though, will hope they have broken down some barriers by their participation in the tour just seven years after being established.
African teams were regular competitors on the race as far back as the 1950s but they were national teams. This is the first trade team to compete.
Funded by the South African communications giant, they still feature veteran European riders such as Norway's Edvald Boasson Hagen and Britain's Steve Cummings.
But two Eritreans are included in the nine-man team along with three from South Africa and it is Teklehaimanot who has carved his place in the history books.
"A bicycle has changed Boasson Hagen's life but not as much as it would a kid from a township in Soweto," said team manager Douglas Ryder.
"Our riders are not just supporting themselves, they are supporting their communities and families. Daniel, for instance, is one of 17 children. It is incredibly inspiring. They are heroes at home."
Growing impact for African riders
The team already has a training base in Italy but its mission is not purely professional cycling.
Qhubeka is a Xhosa word meaning "to progress" and the aim of the team's charity is to "mobilise people with bicycles", giving bikes to Africans in exchange for community work.
But Ryder is keen for African riders to have a growing impact in the professional peloton as team's tap into the continent's natural pool of talent.
Speaking before the Tour, he said: "The funny thing is we presented a five-to-10-year plan to the Tour organisers, the ASO, but it's now been two years and we have already got a place on the Tour.
"I did not think we would get there in the first five years. But the riders are there on merit.
"I believe in the next three years we could have a black African rider on the podium in a grand tour. The riders coming through are young in age and experience.
"They are 24, 25, 26. They are still getting used to riding in bunches, getting used to the tactics.
"There are certain things you just can't simulate on a timed effort up Alpe d'Huez. But the potential is there.
"As more riders come through so the upward pressure will start to have an effect. My dream is that in the next two to three years there will be an African rider on every World Tour team."