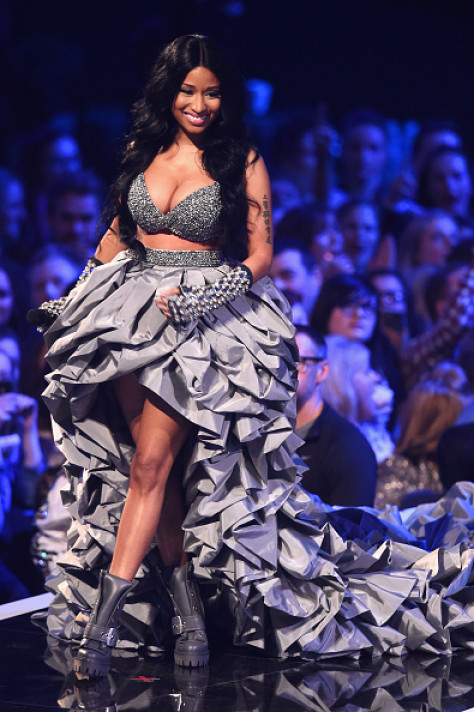 Nicki Minaj was always going to make her presence felt as the host of MTV EMA's and with over seven costume changes, a litany of swearing and a dramatic entrance she lived up to everyone's expectations.
Making her arrival into the arena suspended over the crowd, she flew in in a grey ruffled dress with a 14 foot train cascading below her.
The singer opened the awards show with an expletive laden introduction.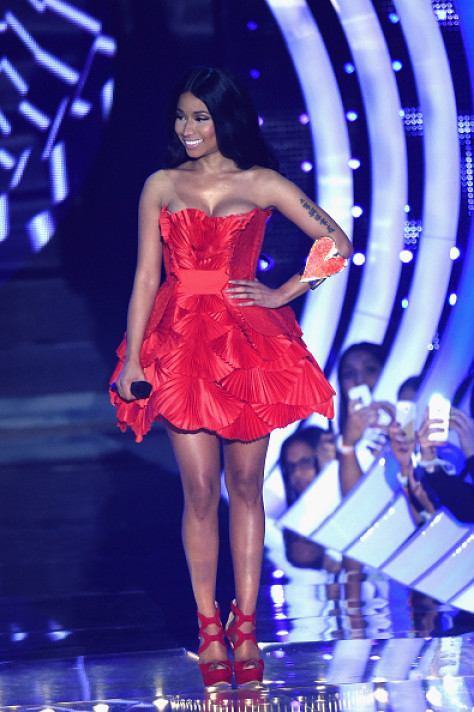 She said: "What the f*** is good Glasgow? It's November and it's the EMAs. Sit back, relax and get ready to turn the f*** up."
"I'm sorry if I cursed," she added " ... but I am Nicki Minaj."
Winning over the audience at the off, the US rap artist launched into an original rap tribute to 'the Scots', inviting the crowd to sing-a-long to the cult favourite Proclaimers hit 'I'm Gonna Be.'
"I'm your royal Min-ajesty The Queen of Scots," she added.
The 31-year-old, who wore a series of gravity-defying dresses throughout the show, was nominated for four gongs: Best Female Act, Biggest Fans, Best Look and Best Hip-Hop Act.
.@arianagrande is on the #MTVEMA backstage show RIGHT NOW! Watch at http://t.co/KZjoSVZ6Pv! http://t.co/FmItl8Vvaj

— MTV EMA (@mtvema) November 9, 2014
Letting her hair down, literally, Ariana Grande kicked off the EMA's in space age style, soaring over the audience at Glasgow's SECC Hydro in a semi-circle orb.
Wearing a metallic, silver, leotard with a peplum waistline and black knee-high boots, the young singer fitted in with the time travel theme, as she descended onto the stage for her performance of her hits Break Free and Problem.
She was back on stage in no time however, to collect the first award of the evening for Best Song for her track Problem with Iggy Azaela.
.@arianagrande is on the #MTVEMA backstage show RIGHT NOW! Watch at http://t.co/KZjoSVZ6Pv! http://t.co/FmItl8Vvaj

— MTV EMA (@mtvema) November 9, 2014
Collecting her award the 21-year-old said: "Thank you so much. I was just on stage one second ago. This has been a really crazy year. Last year I was presenting with Iggy and now I'm performing and up for loads of awards ... Thank you especially to MTV because it was here that I met Iggy and that's what led to Problem happening ... and I can't tell you how thankful I am."
BRB, having a moment with this @aliciakeys performance. #MTVEMA https://t.co/8zkDbcsyih — MTV EMA (@mtvema) November 9, 2014
A heavily pregnant Alicia Keys turned out to present an award showing off her large baby bump in a metallic silver dress and later performed her emotive track 'Why We Are Here.'
Kiesza delivered an impressive rendition of Hideaway while Charli XCX hit the stage for her performance of Boom Clap and Break Free.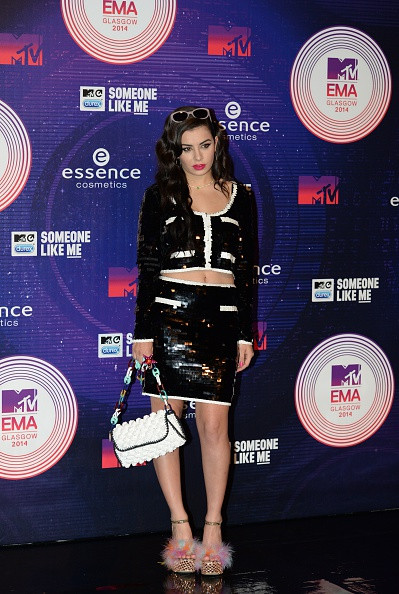 Wearing a skin tight, plunging latex jumpsuit, that left little to the imagination, the singer gave an edgy, rock performance
Irish rockers U2 followed the female solo artists with a stripped down version of Every Breaking Wave, while Ed Sheeran performed his stunning new track Thinking Out loud.
There were several no-shows among the winners on the night with Katy Perry and One Direction each recording video messages.
One Direction who won Best Pop Act said: "Thank you so much for voting for us. We really wanted to be there tonight, but we couldn't, but thank you so much for everything."
The triple crown: Her Minajesty @NICKIMINAJ is now an EMA host, performer AND winner! Congrats on landing her Best Hip Hop, #Barbz!

— MTV EMA (@mtvema) November 9, 2014
After walking away with the award for Best Hip Hop, putting in a show-stopping live performance and winning the unofficial prize for best host, it was left to Nicki Minaj to have the last word on the night and she made sure, that in keeping with the spirit of the evening, it was a foul one.
"Seriously guys I really f***king love you," she declared.
The star-studded night ended with a tribute to the Prince of Darkness himself, Ozzy Osbourne, who was named Global Icon.
We love you Ozzy! #GlobalIcon #MTVEMA https://t.co/BpA4wp8QiA — MTV EMA (@mtvema) November 9, 2014
MTV EMAS 2014:THE WINNERS
Best Song
Ariana Grande - Problem, ft. Iggy Azalea
Best Pop Act
One Direction
Best Male Act
Justin Bieber
Best Female Act
Ariana Grande
Best New Act
5 Seconds of Summer
Best Video
Katy Perry - Dark Horse ft. Juicy J
Best Rock Act
Linkin Park
Best Electronic
Afrojack
Best World Stage Performance
Enrique Iglesias
Global Icon
Ozzy Osbourne
Best Alternative Act
Thirty Seconds to Mars
Best Hip-Hop Act
Nicki Minaj
Best Live Act
One Direction
Best Look
Katy Perry
Best Push Act
5 Seconds of Summer
Best Song With A Social Message
Beyonce - Pretty Hurts
Best UK & Ireland Act
One Direction
Best US Act
Fifth Harmony
Biggest Fans
One Direction