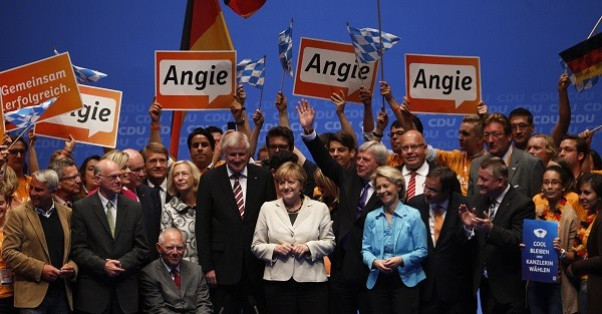 Yesterday's parliamentary elections in Germany were a referendum on 'Mummy' Merkel: Chancellor Angela Merkel and her brand of non-glamorous and stability-seeking politics.
Merkel's campaign could be summarised in one statement she made during a television debate: "Do not have any worries, we will find some solution."
Merkel has been able to stop and turn-around the decline of the Christian Democrats, a party which received just 35.2% of the votes in 2005 and 33.8% four years later. This time, the Christian Democrats won close to 42% of the votes, and her party will dominate any coalition government.
However, Merkel mainly sees the Christian Democrats as the protector of her power base. This approach differs from that of Helmuth Kohl, her predecessor as party leader and long-serving chancellor. Kohl almost saw the party as an extended family.
Merkel does not have a Hollywood glamour factor, but neither does she have a Hollywood-like overestimation of the possibilities to act. Unlike Kohl, the man who re-unified Germany, Merkel also does not see politics in terms of great historical constellations and movements.
Perhaps her experiences have not reinforced any belief in political utopias. When she grew up, Merkel could see the gap between official ideology and the actual dynamics of the DDR, the German Democratic Republic. She also experienced the implosion of the socialist states in 1989.
The ability to conceal one's own sentiments from everyone was an important survival strategy in Stasiland. This ability of Merkel, a highly-intelligent natural scientist, has also helped her to outmanoeuvre democratic challengers and to become a politician that is easy to underestimate.
Merkel's view of politics is an almost Burkean one. If politics is to create enabling conditions for business and society, it cannot impose grand visions. It has to wrestle with the world's complexities in a context of layered institutions and changing forces, unintended consequences and new events.
In Germany's political system, with its ample checks and balances, Merkel has made policy step-by-step: building coalitions and forging consensus. Opponents argue that she has had no guiding vision along the way.
If there is an ideological tenor to her politics, Gerd Langguth, her recently-deceased biographer, may have identified it: her inner compass is aimed at the continuation of a particular coalition, namely a great coalition between the centre-right and the centre-left. Soon we will know whether that will also be the form of the new ruling coalition.
Merkel has benefited from the returns on the tough reforms of her social democratic predecessor, Gerhard Schroeder. And the industry and innovation of Germany's Mittelstand companies and hidden champions are the real drivers of the country's current economic strength.
However, it is Germany's decade in Europe, and what Germany's politicians do, that counts. The election avoided the big elephant in the room: the future nature of the European Union. The voters essentially gave Merkel their confidence that she would be the best rider of the elephant.
Whether Angela Merkel will be able to do so, will determine her place in history, but she is unlikely to be guided by grand visions. The Protestant "girl from Templin" will focus on the complex jungle in front of her: keeping her power in Berlin and dealing with each challenge, step by step. Sometimes, that is how history is made.
Dr. Heinrich Matthee is a political risk analyst.