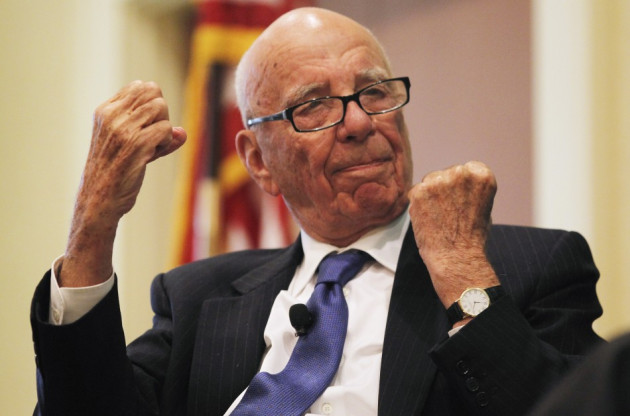 British Sky Broadcasting Plc, the pay television arm of Rupert Murdoch's News Corp, has been cleared by UK regulators of any involvement in the ongoing phone hacking scandal that has forced him to shut down his flagship Sunday newspaper.
Ofcom, Britain's communications industry watchdog, said Thursday that BSkyB had passed what is known as a "fit and proper" assessment as to whether the company is able to maintain a UK broadcasting licence as a result of the allegations that surfaced last year regarding the activities of some journalists at News International, the British print-media division of Murdoch's global group.
"Ofcom considers that, on the evidence currently available and having taken into account all the relevant factors, Sky is fit and proper to hold its broadcast licences," the regulator said in a statement published on its website Thursday. "To date, there is no evidence that Sky was directly or indirectly involved in any of the wrongdoing either admitted or alleged to have taken place at News of the World or The Sun," Ofcom said, referring to the now defunct News International title and Britain's most-read daily newspaper.
The House of Commons Culture Committee, looking into the phone hacking allegations in a probe that was separate from that of Ofcom had concluded in May that it deemed Rupert Murdoch "not a fit person to exercise the stewardship of a major international company" and that he "exhibited wilful blindness to what was going on in his companies and publications."
The allegations, and the Ofcom assessment they triggered, had the potential to allow Ofcom to revoke BSkyB's broadcasting privileges if it felt that Murdoch was not a reputable owner. His son, James Murdoch, who was forced to resign his position in April as chairman and ceo of BSkyB in the wake of the allegations, was deemed by Ofcom to have not met his responsibilities as a senior media executive but not to have wilfully engaged in any wrongdoing.
BSkyB posted full year profits of around £1.6bn in July and remains one of the principal earnings contributors to the News Corp bottom line. It has more than 10 million subscribers in the UK and generates nearly £7bn each year in revenues.
Murdochs' News Corp owns around 39 percent of BSkyB and had been pursuing a $7.8bn bid for the remaining stake when the explosive allegations - which included hacking into the mobile phone of a murdered British schoolgirl - first surfaced.
The News Corp bid was also controversial in that many questioned the close relationship between UK lawmakers and News Corp executives during the vetting process of the takeover attempt. A parliamentary inquiry into media ethics revealed texts from then culture secretary Jeremy Hunt congratulating James Murdoch for gaining European Union approval for the bid while a close aid was deemed to have shared privileged information.
News Corp is in the process of splitting the company into two separate units: one devoted to publishing and the other to broadcasting. The former's contribution adds around 18 percent to News Corp's earnings while the latter provides the lion's share of 57 percent.
BSkyB shares posted modest gains of 0.4 percent at the open of trading in London on Thursday, changing hands at 730.5 pence each. The shares have gained more than 16 percent since the worst of the News Corp allegations were aired publically in August of last year.