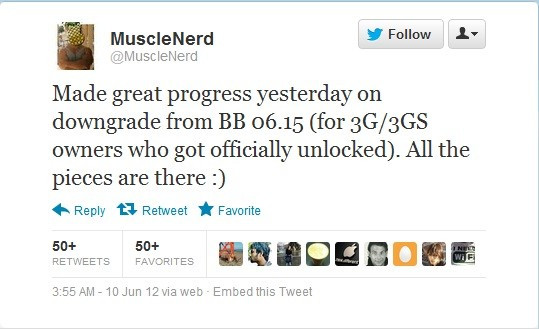 There is more good news for iPhone unlockers as MuscleNerd has unearthed a new unlock tool to help downgrade your iPhone 3G/3GS from newer baseband - 06.15.00 - to earlier basebands such as 05.13.04. The tool is expected to support Ultrasn0w utility for unlocking your iPhone without losing its GPS functionality. According to Redmond Pie, this is easier than the Gevey SIM unlock method but requires an iPhone with a supported baseband.
One big hitch with the existing Ultrasn0w tool for unlocking iOS 5.1.1 on iPhone 4/3GS is its limitation; there is support for just five basebands. Besides, the newer 06.15.00 baseband is an iPad baseband that blocks iPhone's GPS feature so it can't be used for navigation. MuscleNerd has revealed a solution to the GPS problem in the form of downgrade option from 06.15.00 to other previous basebands.
iPhone unlocking expert MuscleNerd recently took to Twitter and posted on the progress made on the tool's development and its key feature.
"Made great progress yesterday on downgrade from BB 06.15 (for 3G/3GS owners who got officially unlocked). All the pieces are there :)," tweeted MuscleNerd.
In a reply to a related tweet from a jailbreak enthusiast, the hacker posted the following message:
"@eriksmets Yep! This lets you downgrade 3G/3GS from 06.15.00 to any prior BB (05.13.04 would be good pick: ultrasn0w + GPS both)."
This is good news for users stuck on 06.15.00 and looking for a solution to break the deadlock. Despite no immediate signs of release for the new baseband downgrade tool, MuscleNerd's words "all the pieces are there" surely sounds promising.