Burma Revises down Death Toll of Muslim-Buddhist Clashes in Myanmar
Human rights campaigners accuse Myanmar government of failing to prevent Rohingya massacre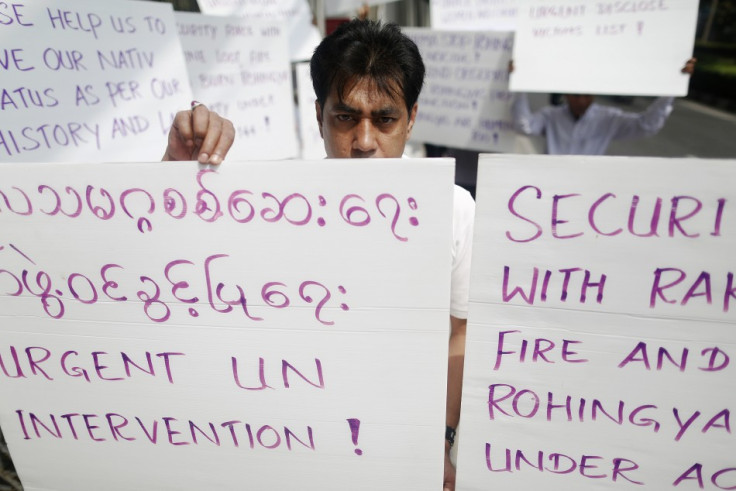 The Burmese government has lowered the death toll from the ethnic violence that exploded on 22 October in Rakhine state from 112 to 64, prompting fresh questions about the central authority's credibility.
A total of 33 men and 31 women were killed in clashes between Buddhists and Muslims in Minbyar township outside Rakhine's state capital of Sittwe, said the government in a stark revision of statistics.
"At least two died of gunshot injuries," Rakhine state spokesman Win Myaing said.
Rohingya human rights campaigners accused security forces of failing to intervene in what it called a massacre.
"Many Rohingya were warned by police to get out of their homes by 25 October or else face the consequences, but they had nowhere to go and even when they tried to leave they are attacked," Jamila Hanan of the Save the Rohingya campaign told the Telegraph.
"All remaining homes are being burnt to the ground. Refugee camps are full and the government announced no more Rohingya would be allowed into Sittwe.
"Those who have not made it to refugee camps or been killed by machete or bullets or arrested are now drifting in boats at sea or stuck hiding in the mountains. Deaths are hard to quantify, clearly there are many more than [the] official figure."
Tensions have been high between the two sides in Rakhine since June in the wake of allegations that a gang of Buddhist Rohingya men had raped a Muslim Arakanese woman.
About 75,000 people remain in refugee camps and a curfew is still in place in some areas.
President Thein Sein has warned he will take action against the instigators of the violence.
"As the international community is closely watching Myanmar's democratic transition, such unrest could tarnish the image of the country," he said.
The United Nations called for calm and urged access for humanitarian purposes.
"The UN is gravely concerned about reports of a resurgence of intercommunal conflict in several areas in Rakhine state, which has resulted in deaths and has forced thousands of people," UN resident and humanitarian coordinator in Myanmar Ashok Nigam said.
The 800,000 Rohingya have never been granted citizenship in Myanmar and a 1982 law excluded them from the list of officially recognised minorities.
The latest violence forced Mynmar's Islamic organisations to cancel celebrations for the four-day Eid al-Adha holiday.
© Copyright IBTimes 2023. All rights reserved.