Myanmar has said that its patrol boat opened fire on a Bangladeshi fishing vessel, killing one, fearing that the vessel posed a threat, according to state media.
The incident took place on Monday and comes as the latest bout of violence on Myanmar's troubled border, which the government blames on insurgents from the Rohingya Muslim minority.
According to Reuters, a Bangladesh security official said a complaint was lodged over the shooting and both the countries disputed the details of the case.
The fisherman, Narul Amin, 26, was reported to have been killed when a Myanmar navy vessel approached his boat in the Naf river which forms the Myanmar-Bangladesh border area.
Fishermen and residents of Bangladesh's Teknaf district and the police said the Myanmar vessel opened fire after chasing the small wooden fishing boat towards the Bangladesh bank of the river.
Two other fishermen were thought to have been on the boat with Amin, but they managed to escape, although one of them suffered a bullet wound, Reuters cited its sources, including Colonel Anisur Rahman, Border Guard Bangladesh commander for Cox's Bazar, as saying.
The Myanmar vessel "crossed into Bangladesh's body of water", Rahman said. "We sent a protest letter to our Myanmar counterpart for killing the Bangladeshi fisherman."
However, the Yangon government-run Global New Light of Myanmar reported an entirely different account saying the patrol boat spotted eight "illegal" Bangladeshi fishing boats and feared it was under attack. Five of the boats were in Myanmar's waters, it said.
"The illegal boats surrounded the marine patrol boat in manoeuvres that suggested they were going to attack," the newspaper cited unidentified officials as saying. "To ensure security and the lives of the soldiers, the patrol team fired two shots, causing the boats to abandon the area."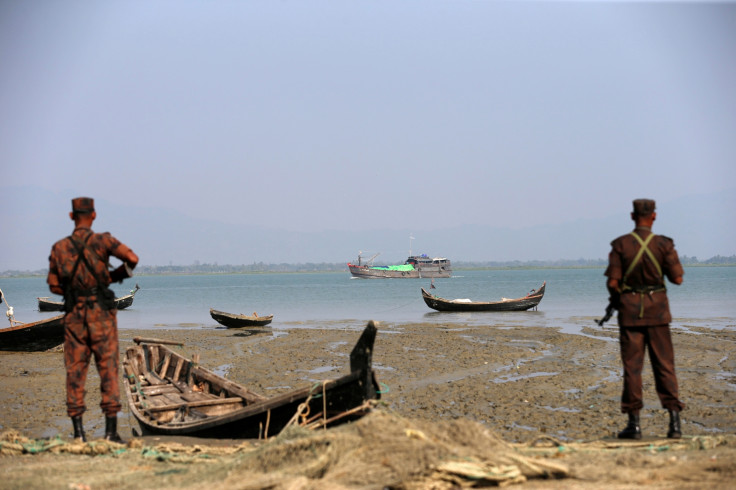 But the newspaper did not mention that the Bangladeshi fishermen were armed. President Htin Kyaw's spokesman said the information published in the Global New Light of Myanmar came directly from the navy and hence he did not have any details to offer.
"This is a complicated issue," said the spokesman, Zaw Htay. He added that it would take time to "find out the real situation of this incident".