Mystery surrounding Royal Tomb of Philip II of Macedonia finally solved
A long-standing mystery about the tomb of King Philip II of Macedonia has finally been solved, showing the father of Alexander the Great was buried with his wife Cleopatra and their infant.
Philip II was assassinated in 359BC in the ancient capital of the kingdom of Macedon by one of his seven bodyguards, the reason for which has been long debated.
Three Royal Tombs were discovered in the Great Tumulus in Vergina in the 1970s and two proved to be of particular interest on account of the treasures held inside.
Tomb I contained a man, woman and a newborn baby, while Tomb II contained a man and a woman and a huge array of grave goods, including two golden larnakes and armour. Despite mounting evidence that the latter was not the tomb of Philip, "the archaeological establishment still maintains that Tomb II belongs to Philip II".
One of the reasons for this was that an early text had suggested Philip was cremated – and the bodies in Tomb I had not been subject to this funerary practice.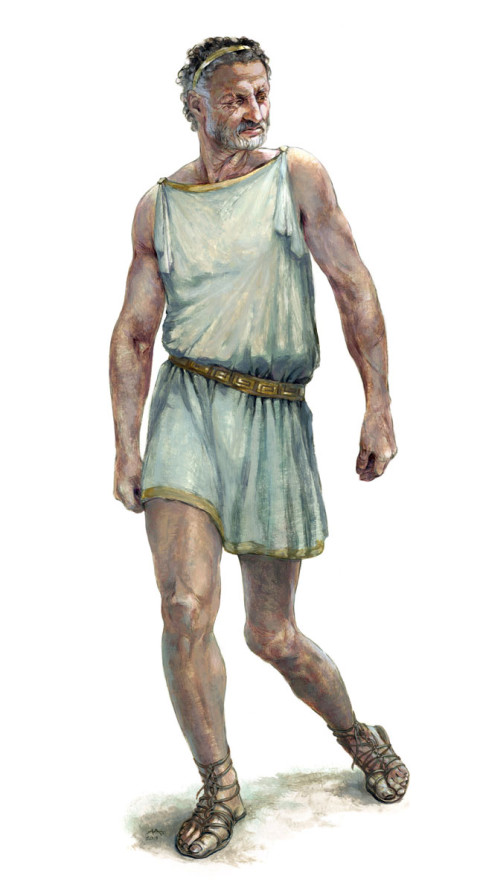 Publishing their findings in the journal PNAS, Juan-Luis Arsuaga, from the Universidad Complutense de Madrid, and Antonis Bartsiokas, Democritus University of Thrace, Komotini, have now analysed the tombs with scanning and radiography to show Philip is indeed buried in Tomb I with Cleopatra and their child.
The researchers were looking to find the identities of the man, woman and baby by establishing their ages and comparing them with figures from ancient literary sources. The baby was found to be 41–44 weeks, so either newborn or still in utero.
The woman was around 18 years old – the same age as Cleopatra would have been when she died (shortly after Philip) – and far closer than that of the female body found in Tomb II.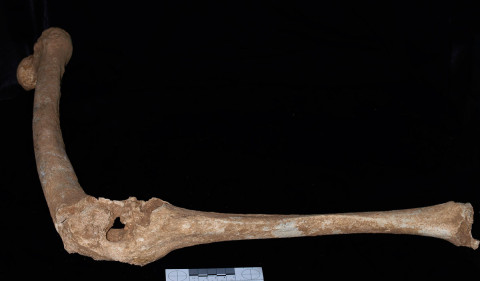 More convincingly, however, was the analysis of the male skeleton. He was judged to be around 45 when he died, matching the age at which Philip was killed, but he was also found to have suffered a severe wound to his knee three years before his death.
This is consistent with reports of Philip's life: "As Philip was returning to Macedonia from the Scythian campaign against Ateas, the Thracian tribe of Triballoi met him and refused to allow him passage unless they received a share of the spoils," the researchers wrote. "Hence, a dispute arose and afterward a battle, in which Philip received so severe a wound through his leg by a lance that his horse was killed by it.
Analysis showed the male in Tomb I had leg bones with a stiffened knee joint, signs of bone fusion and a hole through the knee indicating a piercing wound. "Therefore, Philip's lameness is conclusive evidence for the identification of one tomb occupant as Philip."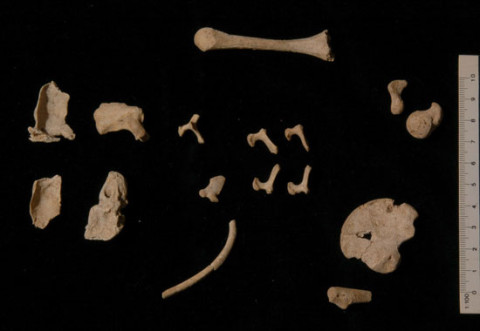 Bartsiokas told IBTimes UK their findings should "definitely" lead to a general consensus on the tomb of Philip: "The evidence this time, is overwhelming" he said. "The knee ankylosis, together with the bone hole caused by the lance, indicates a penetrating wound, and thus shows that the bone belongs to King Philip II. Furthermore, the two other skeletons, a young woman's and a neonate's, are absolutely consistent with the historical evidence, since we know that Philip was assassinated with his wife Cleopatra and newborn child."
Bartsiokas has been working on the identities of the Royal Tombs for over 15 years and previously showed the skull thought to be that of King Philip was not his. He said it was good to finally put the mystery to bed: "Now we know for certain that Tomb I is Philip's and Tomb II is Arridaeus's (Alexander the Great's half-brother).
"And that we have the bone of Philip's leg with its famous injury. It is an extremely rare thing that a bone can carry with it so much historical evidence for thousands of years."