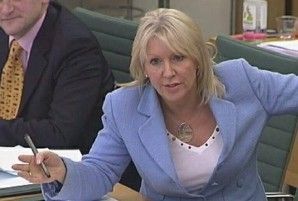 I'm A Celebrity flop Nadine Dorries has failed in her bid to get back into the Conservative party after her ITV jungle jaunt.
Ouspoken Dorries flew back to Britain for talks with chief whip Sir George Young after her stint on I'm on Celebrity, Get Me Out of Here.
But if the outspoken MP was hoping for a soft landing after arriving at Heathrow airport from Australia she was disappointed.
Despite declaring that her meeting with Young went well, Dorries was not brought back within the Tory fold. The prime minister's enforcer decided against handing her back the party whip.
It means she remains effectively expelled from the party and must sit as an independent MP.
A Tory spokesman said: "The whip has not been restored and nor will it be until she proves that she can rebuild bridges with her constituents, her association and her parliamentary colleagues".
Mid-Bedfordshire MP Dorries took three days off from parliament for her prime-time TV adventure. The bulk of her sojourn happened during a recess.
She declared going on the programme was a bid to reach an audience who ignore politics. But it backfired disastrously as viewers voted in their droves for her to eat ostrich anus and munch camel toe, then kicked her off the show. She was first to go.
Voters in her home counties constituency were also unimpressed by the antics of their parliamentary representative, who also got buried in bugs on screen.
Polling by influential party funder Sir Michael Ashcroft revealed voter discontent.
Dorries could now face a battle to win over voters on her own patch, a safe Tory seat.
Conservative central office's statement placed the question of what to do with Dorries in the hands of local members. They could de-select her if more than 50 members of the local association back a move.
But withholding the pary whip could backfire if Dorries uses her stint out in the cold to wreak havoc on Tory high command from the back benches.
David Cameron and Chancellor George Osborne each know she is more than willing to make uncomfotable headlines for them. She previously labelled them as "out-of-touch posh boys".