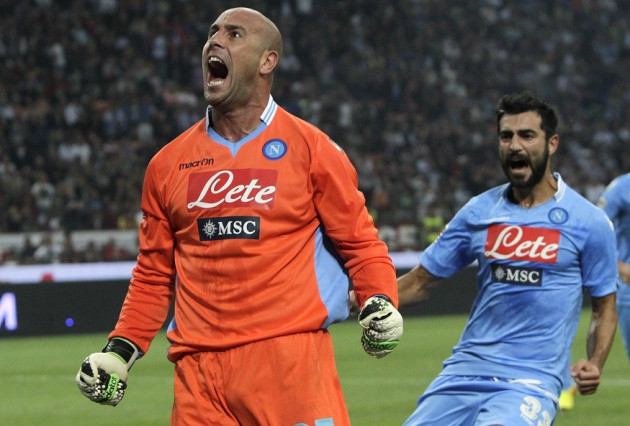 Napoli sporting director Riccardo Bigon has confirmed that Pepe Reina will be returning to Liverpool at the end of his loan spell.
Reina made the decision to be reunited with former boss Rafa Benitez at Napoli by joining on a season-long loan and has made a positive start to his career in Italy. The Spanish goalkeeper has already kept three clean sheets in six league games to help the club move to the top of Serie A.
The 31 year old also saved a penalty from Mario Balotelli, the first time the Italian had failed to convert in his professional career, to earn Napoli a crucial win over AC Milan last month.
Despite his impressive displays it seems Napoli are keen for summer signing Rafael Carbal to be the club's long term number one. The 23 year old was signed from Santos and has already been capped three times by Brazil.
Quizzed before Napoli's game against Arsenal in the Champions League, Bigon told Sport Media Set that Reina would most likely be returning to Liverpool next summer.
"Keep Reina? At the end of this year he will return to Liverpool," stated Bigon, as quoted in Tutto Mercato Web. "In life you can look again at everything, but to date Reina is a Liverpool player.
"It is too early to talk about it, at the moment we have only taken him on loan.
"When [Morgan] De Sanctis raised the idea of joining another club we tried Rafael as a first choice goalkeeper; the Brazilian will be the future of the club. Reina, we chose him because [Rafael] Benitez knew him well."
Reina stated just a matter of days ago that he believed his Liverpool career was over after seeing how well Simon Mignolet has performed since making the move from Sunderland in the summer.
Asked if he expected to play for Liverpool again, Reina said: "No. At the moment it's difficult to think about being a Liverpool player next year.
"They have a young goalkeeper in Simon Mignolet and the manager prefers him to me. That's the reason why I'm here and he will be at the club next year as well.
"There's no reason to think I'll be a Liverpool player from now on but we'll see where the future takes us. It's been a good move so far and I don't regret what happened. I would have preferred to say goodbye in a different way."
With Reina understandably not wanting to play back-up to Mignolet it seems he may be forced to find a permanent move away from Liverpool next summer.
Reina is under contract until the summer of 2016 so Liverpool would be able to command a fee for the goalkeeper who was previously heavily linked with a return to his former club Barcelona.