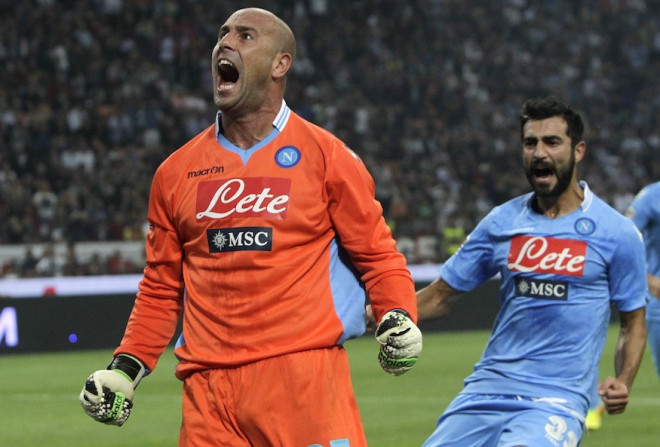 Club president Aurelio De Laurentiis has confirmed that Napoli are keen to extend goalkeeper Pepe Reina's spell at the Italian side next season.
Liverpool sent Reina on loan to Napoli last summer following Simon Mignolet's arrival at the Premiership leader's club. After two lacklustre campaigns at Anfield, the Spanish stopper is now back to his best under his former Anfield manager Rafa Benitez.
Reina has been crucial for Napoli this season and has become a firm favourite with the fans and De Laurentiis who is planning to make every effort to keep him in Italy.
"After victory (over Juventus) I went down to the locker room and I promised the players a bonus if they can finish second. Then I talked to Reina and told him that he must remain with us," said De Laurenttis.
"I want him confirmed for next season. He was happy, for him it was a double reward."
Reina is under contract at Liverpool until 2016 but, with Mignolet the firm favourite between the sticks for manager Brendan Rodgers, it looks like his Reds' future may be at an end.
Barcelona and Atletico Madrid are reportedly monitoring the situation but, with the Spaniard enyoying his time in Italy, it looks like Napoli will secure his services.
Some reports claimed last month that Napoli's sporting director met with Reina's agent to discuss the shot-stopper's future plans.
But even though the Spaniard is likely to extend his spell at the Italian side, reports claim that Napoli were having trouble meeting his €4.2m (£3.5m) salary demands.
Nevertheless, it looks like Reina's future at Anfield is at an end after recently Brendan Rodgers hinted his time on Merseyside is over.
"He's already written his letter, hasn't he? He wrote a goodbye letter, didn't he? I was surprised at the letter - when you are a loan player I would expect that he should come back, but obviously Pepe made it very clear when he went to Napoli that he was looking to move," Rodgers said.