Nasa Rocket Explodes Seconds After Lift-Off in Virginia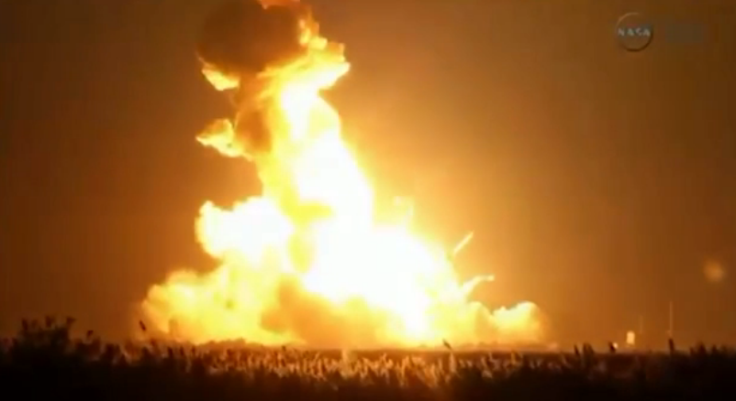 An unmanned, 14-storey rocket built by Orbital Sciences burst into flames soon after lift-off, according to Nasa.
The cause of the accident was not immediately known, said Nasa mission commentator Dan Huot.
The rocket was carrying a cargo ship for the International Space Station.
"We have lost the Orb-3 vehicle," said the commentator on Nasa television, after the liftoff at Wallops Island, Virginia.
The launch had already been delayed one day after a boat sailed into a restricted safety zone beneath the rocket's intended flight path, according to a Reuters report.
"This has been a lot of hard work to get to this point," Orbital Sciences Executive Vice President Frank Culbertson told the launch team just before liftoff.
Orbital Sciences is one of two companies hired by Nasa to fly cargo to the station. Tuesday's planned flight was to be the third of eight under the company's $1.9bn contract with Nasa.
Currently tracking no issues with #Antares rocket ahead of 6:22p ET launch Watch: http://t.co/6hggfUYmIS pic.twitter.com/IEIdx9RzQO

— NASA (@NASA) October 28, 2014
The Antares rocket was carrying a Cygnus spacecraft packed with 5,055 pounds (2,293 kg) of supplies, science experiments and equipment.
Cygnus was to stay in orbit until 2 November, and then fly itself to the station, where astronauts would use a robotic crane to take hold of the capsule.
In addition to food, supplies and equipment, the Cygnus spacecraft was loaded with more than 1,600 pounds (725 kg) of science experiments, including an investigation to study meteors as they burn up in Earth's atmosphere.
The Cygnus also carried a prototype satellite owned by Redmond, Washington-based startup Planetary Resources Inc., which is developing technology to mine asteroids.
"At this point it appears that the damage is limited to the facility," said a NASA commentator.
NASA & @OrbitalSciences are gathering data on the failure of the CRS-3 mission 6 seconds after launch. Updates: http://t.co/6Bo6KBRWnG

— NASA (@NASA) October 28, 2014
© Copyright IBTimes 2023. All rights reserved.