SpaceX Rocket Explodes Shortly After Take-Off
The three-engine Falcon 9R rocket broke up in mid-air after an anomaly in its system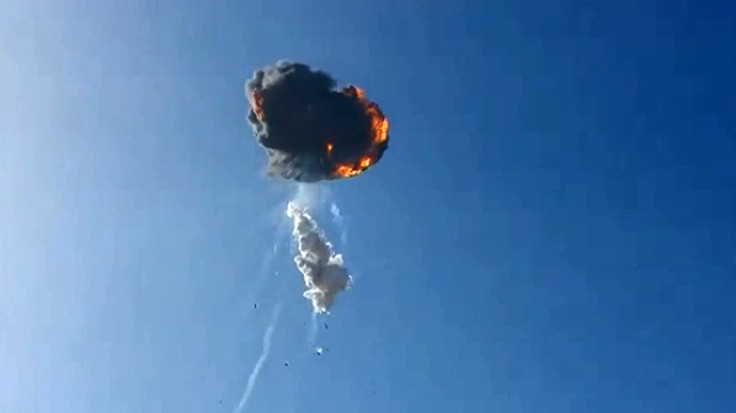 An unmanned SpaceX rocked exploded shortly after take-off during a test flight in Texas on Friday.
The three-engine Falcon 9R rocket broke up in mid-air after an anomaly within its system.
The vehicle remained in the designated flight area at the company's McGregor facility and no injuries were reported, SpaceX said.
A source told CBS News that the explosion was triggered by an issue with one of the rocket's engines, but this was not confirmed by SpaceX.
In a post on Twitter, SpaceX chief executive Elon Musk said: "Three engine F9R Dev1 vehicle auto-terminated during test flight. No injuries or near injuries. Rockets are tricky."
SpaceX said in a statement: "During the flight, an anomaly was detected in the vehicle and the flight termination system automatically terminated the mission.
"With research and development projects, detecting vehicle anomalies during the testing is the purpose of the programme. Today's test was particularly complex, pushing the limits of the vehicle further than any previous test."
The company said it will review the flight record to find out more about the rocket's performance before its next test flight.
SpaceX has been using the Falcon 9 to launch satellites and the Dragon spacecraft, which delivers cargo to the International Space Station (ISS).
The company plans to launch a communications satellite next week, followed by a SpaceX Dragon cargo ship, which will be sent to the ISS in mid-September.
SpaceX recently announced plans to launch astronauts into space using 3D printing. The company aims to use the technique to build emergency escape rockets on its new manned Dragon Version 2 spacecraft.
The capsule is SpaceX's entry in Nasa's competition for commercial manned spacecraft to ferry astronauts to and from the ISS. SpaceX sent its first 3D-printed part into space earlier this year, flying inside one of the Falcon 9 rocket's Merlin 1D engines.
© Copyright IBTimes 2023. All rights reserved.