On the morning of 28 January 1986, the Space Shuttle Challenger exploded just 73 seconds into its flight, leading to the deaths of its seven crew members. Travelling at nearly 2,000mph at a height of ten miles, the Space Challenger was enveloped in a red, orange and white fireball as thousands of tons of liquid hydrogen and oxygen fuel exploded. The US subsequently put all space flights on hold for 32 months.
According to reports, a ruptured O-ring (mechanical gasket in the shape of a circle) located in the right solid rocket booster caused the explosion after the shuttle launched from the Kennedy Space Center.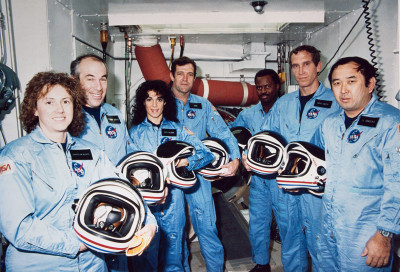 After the explosion, engineers argued that the overnight temperatures of -8 °C on the evening prior to the launch were below their redline of 4°C. Ice had accumulated on the inside of the launch pad, raising concerns that the ice could damage the shuttle upon lift-off. The temperature on the day of the launch was also far lower than previous shuttle launches and despite the Ice Team working hard through the night to remove the ice, the engineers still expressed deep concern.
In July 1986, six months after the tragedy, a report was released on the deaths of the crew but was inconclusive, due to a number of factors that remained uncertain about the explosion. The report concluded that the cause of death for all seven crew members could not be determined. Those on board included five astronauts, Judith A. Resnik, Francis R. Scobee, Ronald E. McNair, Mike J. Smith and Ellison S. Onizuka along with payload specialists Sharon Christa McAuliffe and Gregory Jarvis.
Thirty years on a new generation of spaceships continues to build on changes made after NASA's fatal accident.