Nasa validates EmDrive: Roger Shawyer says aerospace industry needs to watch out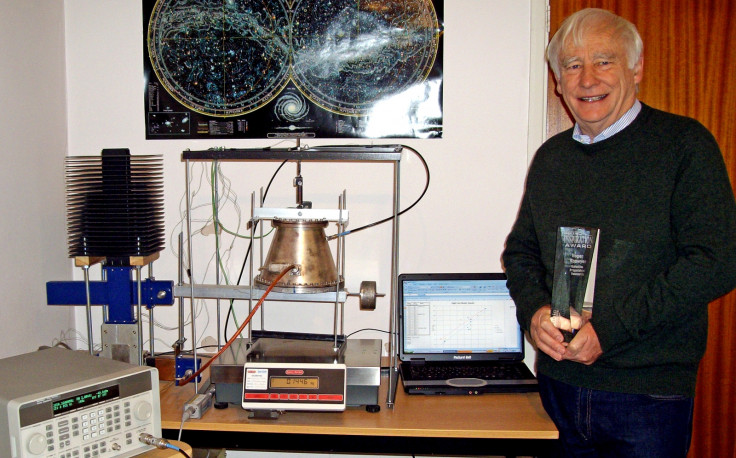 Roger Shawyer, the British scientist who invented the highly controversial electromagnetic space propulsion technology called EmDrive, has said Nasa's work is encouraging but still far behind many private firms working on it already.
"Obviously I'm very happy for Nasa, they're having great fun, but it's not really real science," Shawyer told IBTimes UK in an exclusive interview.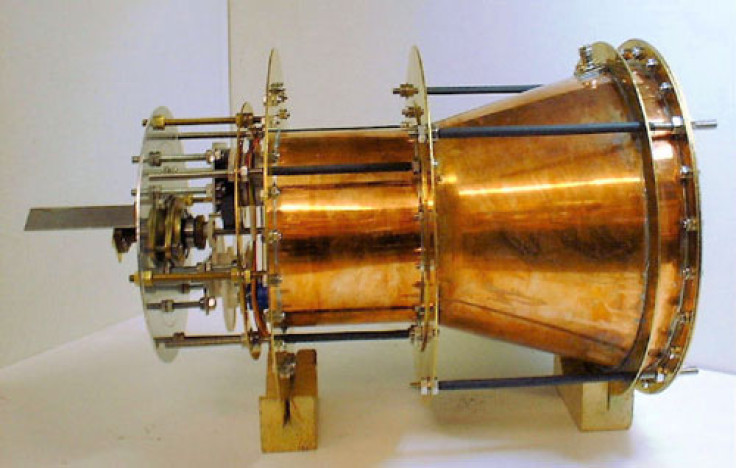 The EmDrive created by Shawyer's space company Satellite Propulsion Research Ltd
Roger Shawyer, Satellite Propulsion Research Ltd
"The results are actually down to fundamental physics, which has been well understood for the last 100 years. There are plenty of competent organisations in many countries who have been supporting my work over the past few years and plenty of other people including the Chinese have proved it, so it's not a surprise to me."
Shawyer spent years having his technology ridiculed by the international space community even though Boeing licensed it and the UK government was satisfied it worked. But on 29 April, researchers from Nasa Spaceflight confirmed an electromagnetic propulsion drive was successfully tested in a vacuum at Johnson Space Center.
Although it did not seem possible, Nasa found the technology did indeed work, and no amount of discussions from the space organisation or a large community of enthusiasts, engineers, and scientists on several continents on the NasaSpaceflight.com EmDrive forum had so far been able to disprove the results.
Shawyer says the technology will revolutionise the aerospace industry and change is coming whether it likes it or not.
"The aerospace industry needs to sit up and rethink things. The big aerospace companies have designed their last big jets, that's one of the implications. No one will be flying big jets for long-haul transportation in 20 years, and we won't be needing runways either," he said.
Many private companies are working on EmDrive
Shawyer has been working on a souped-up second generation version of the EmDrive that uses super conductors and an asymmetrical cavity to increase the thrust by up to five orders of magnitude but he says he is not the only one.
"There are a number of very important organisations now working on second generation EmDrive, both partnering with us and competing against us. Most of the real work is done by private companies, so they don't have a need to publicise it," he said.
"I can't say much but we're [Satellite Propulsion Research Ltd] doing well and there are lots of pans in the fire."
When pressed about who Shawyer might be working with on EmDrive technology, he said cryptically: "You need to think about which countries who don't have a vested interest in the aerospace long-haul aircraft industries – they will not be the Boeings and the Airbuses, but some of the developing nations."
Shawyer said the situation has changed from the scepticism he received in 2006. Today, many scientists are now thinking of new ways to use EmDrive to solve global issues that would never have been possible before.
EmDrive could solve the energy crisis and climate change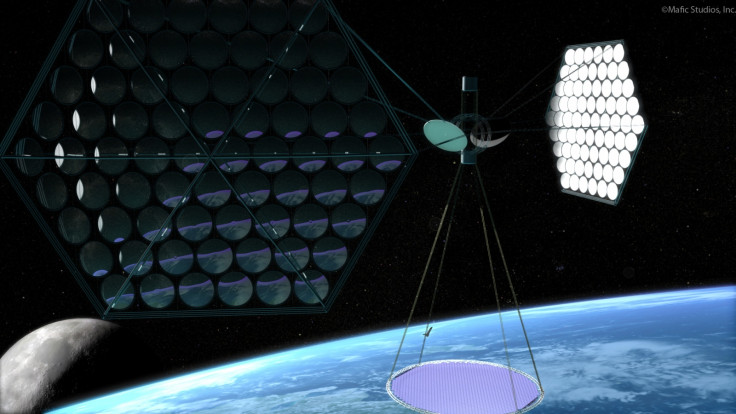 If it was cheap to launch satellites into space, we could harness solar power for Earth and even use satellites as shields from the sun against global warming
Mafic Studios, Inc
"We will go to Mars, but the most important thing is what EmDrive will do for the rest of the world. It will be solar power stations, city-to-city long-haul flights using hydrogen. It's green and convenient and will change our world in the next few decades," he said.
"We've got solutions to the global energy crisis, climate change and green technology all thrown into one.
"Think what orbital sunshades, easily put into place and controlled, will do for climate change. Think about a city sweltering in the hot sun, and think about a council buying an orbital sunshade and launching it into orbit, all completely controllable and easy to put up."
Shawyer says he has written a new paper about developers with second-generation EmDrive that is in the process of being peer reviewed but should make an appearance sometime in 2015.
"You don't need to have highly stressed, hi-tech vehicles that the aerospace industry uses right now, which are costly, dangerous and bad for the environment," he said. "There are people who are going to profit from it while the West gently dies in the sunset. It's gonna happen and the world will be a better place for it."
© Copyright IBTimes 2023. All rights reserved.