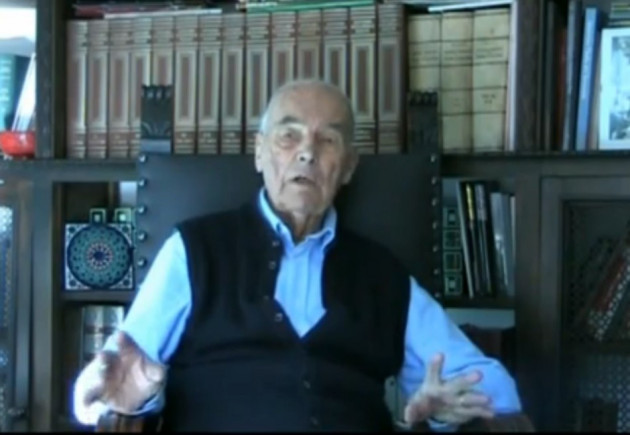 In a video recorded days before his death, Nazi war criminal Erich Priebke refuses to take the blame for the brutal execution of hundreds Italian over which he was sentenced to a life in prison.
Priebke describes the so-called Ardeatine Cave massacre as a terrible experience but says his hands were tied and anyway anti-fascist militia groups saw it coming.
On 23 March 1944, 335 Italians, including anti-fascist prisoners, teenagers, Jews and a catholic priest were shot dead with a bullet in the back of the head at the ancient Ardeatine Caves in central Rome, in retaliation for a bomb attack by communist partisan troops (GAP) that had killed 33 German soldiers.
Priebke, a captain with the Nazi Schutzstaffel (SS) corps in the Italian capital, drew up the list of those to be executed and personally shot two dead.
"They [GAP] knew that after the bombing there would have been retaliation," Priebke tells the interviewee, his lawyer Paolo Giachini.
Priebke says that posters warning of reprisal in the event of attacks against Nazi troops had been affixed on "every wall" upon the orders of the Luftwaffe commander in Italy, Albert Kesselring.
"They [GAP] knew it and they did it [the bombing] on purpose. They thought that our reprisal would have triggered a civil revolution but that didn't happen," he says.
The Ardeatine massacre had been reportedly ordered by Adolf Hitler, who initially demanded that 30 Italians should be killed for every dead German.
The ratio was later reduced to 1 to 10 and Priebke was tasked by Herbert Kappler, the Chief of the Security Police and SS in Rome, to come up with a list of those to be shot.
In the short video, which release follows that of another interview in which Priebke denies the Holocaust, the former SS captain claims he was to be shot himself if he refused to follow the order.
"Before the reprisal, Captain Schultz told us: 'this order comes from Hitler and we must carry it out. Who doesn't want to do it has better to line up with the victims because is going to be shot too'."
"It was terrible," Priebke says. "Schultz had already fought in Russia and was more used to death and reprisal, for the rest of us was terrible."
The video ends with a written quote from Priebke's trial, in which he offers his condolences to the relatives of his victims.
Priebke died aged 100 at his house in Rome where he was serving a life sentence.
His body has been taken to a military airport near Rome, after a last minute funeral organised by an ostracised Catholic order was called off amid violent protests.
Priebke's denial of the Holocaust and lack of remorse for the crimes of the Nazi regime prompted the Vatican to refuse him public funerals and authorities in Argentina, where he lived after the war, Rome and in his native German town of Hennigsdord also refuse him burial.
Giachini told Oltreradio radio Priebke did repent when he was in Argentina, and was allowed by his local priest to take the Holy Communion. He also claimed Priebke had reached out privately to relatives of the Ardeatine victims and was a good friend with four of them.
Rome resident Giulia Spizzichino, 86, whose family was decimated at Auschwitz and at the Ardeatine described the claim to La Repubblica newspaper as a "huge lie".
Italian officials said they've contacted German authorities for the coffin to be flown there.