A trio of major franchises have teamed up to make a new shoe that combines elements of Nike, Playstation and the NBA.
Oklahoma City Thunder forward Paul George released his second signature shoe, the PG2s, and managed to include technology from the PlayStation controller. On the tongue of one of the shoes, a PlayStation logo glows in blue that, when pressed, will vibrate.
Dualshock vibration has been a staple of PlayStation controllers since the start of the 21st century. George, a self-professed gamer, wanted to combine elements of his passion with his job.
The shoes include a 150-hour battery that is non-replaceable. The soles of the shoes are painted in a galaxy theme, mimicking the home screen of the PlayStation console. Also, the lace holes on the shoes have the same colours as the PlayStation controller - blue, green, pink and red.
Buyers will even get a PlayStation Network code that when scanned will unlock a special Paul George theme for the gaming console. The shoes go on sole on 10 February and will retail for $110 in the US.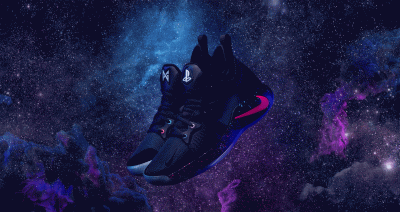 "I just had a knack for video games," George said about his new shoe. "As soon as I discovered Playstation, I was throwing hints here and there to my Dad - cutting out the clipping of a video game, cutting out the clippings of the PlayStation, leaving it on his dresser."
"I remember on Christmas morning, I unwrapped my gift and sure enough, it was the PS2. I've been a PlayStation guy ever since."
"I'm really excited, more so again for the performance that it's going to give guys that follow me and are trying to get to the NBA, I'm most excited for those guys to get a chance to wear them and be in them and help them with their careers. At the end of the day, that's what I want."
George tweeted a teaser on Saturday (20 January) about the new shoe. It includes the PlayStation logo and his own brand's logo: