Kate Middleton and Prince William Pay Tribute to Nelson Mandela: He was an Extraordinary Man
Kate and William Pay Tribute to Nelson Mandela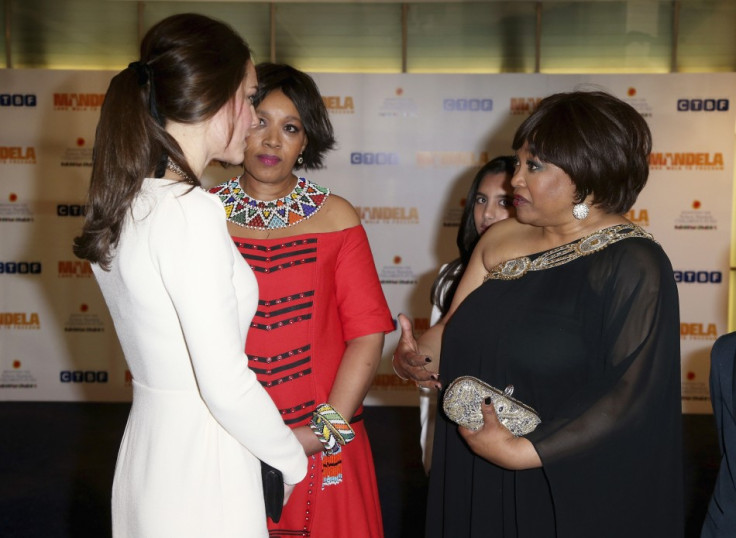 Prince William and Kate Middleton have paid tribute to Nelson Mandela, who died today aged 95.
The royal couple were guests of honour at the UK premiere of the biographical film about the South African leader's life Mandela: The Long Walk To Freedom.
In a brief statement to the media Prince William said: "I just want to say it's extremely sad and tragic news. We're just reminded of what an extraordinary man Nelson Mandela was. My thoughts and prayers are with him and his family right now."
Just hours earlier, the Duke and Duchess had met with Mandela's daughters Zindzi and Zaneni Mandela, who were attending the gala premiere.
The passing of the former president was announced after the end credits of the film had rolled. The news was met with stunned silence from the assembled guests, who included film producer Harvey Weinstein and Bend It Like Beckham director Gurinder Chada.
Writing on Twitter, Chadha later described the moment the news of Mandela's passing was announced. "Can't believe it," she said. "The film ended, Idris and producer Anant Singh came on. We cheered until he broke the news to a stunned 4000 full cinema."
After the announcement, a two-minute silence was held.
The death of Nelson Mandela at his home in Johannesburg has sparked a huge outpouring of grief from every corner of the world.
President Barack Obama, British Prime Minister David Cameron and former US President Bill Clinton were among the world leaders to pay tribute to the global icon.
© Copyright IBTimes 2023. All rights reserved.