South Africa's first black President Nelson Mandela has been laid to rest.
The global icon was buried with full military honours in a state funeral service attended by four and a half thousand dignitaries, amongst them world leaders and royalty.
A few hundred metres from where the ceremony was held, hundreds of villagers watched the proceedings from a large screen, on a hill overlooking the revered statesman's house.
In a sombre ceremony African leaders, friends and his family spoke movingly of their love for Nelson Mandela, and his legacy.
The coffin, draped in the South African flag, was placed beneath a lectern where speakers paid their tributes.
Close friend Ahmed Kathrada, who was incarcerated in Robben Island with Mandela, told his fellow mourners that he had lost an "elder brother."
Kathrada's voice filled with emotion as he spoke of how he had held his friend's hand the last time he saw him in hospital.
"Farewell my dear brother, my mentor, my leader," he said.
George Bizos, another close friend who was part of Mr Mandela's legal team at his 1964 Rivona Trial, was among those who attended the private burial.
"We have known each other for 65 years. Now he is gone," he said.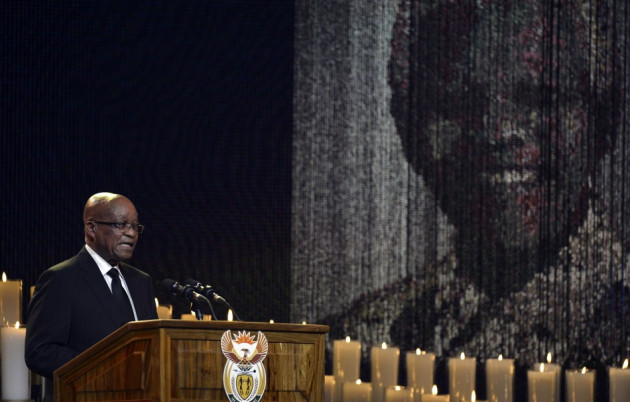 President Zuma, who had faced jeering at the public memorial said "it had been a long and painful week."
"Whilst the long walk to freedom has ended in the physical sense, our own journey continues," he added. "You will remain our guiding light illuminating the path as we continue the long journey to build the South Africa of your dreams."
In a personal tribute Mandela's granddaughter Nandi described him as a man with a sense of humour, saying the family would miss his laughter and smile.
Another of his granddaughters said his life would inspire millions. "He went to school barefoot and yet he rose the to the highest office in the land. He became the President of South Africa and the greatest statesman in the world."
His grief-stricken widow, Graca Machel, Madiba's ex-wife, Winnie, and President Jacob Zuma were present for the private, traditional Xhosa burial at Mr Mandela's ancestral home in Qunu. The burial was conducted in keeping with the traditions of Mandela's Thembu tribe.
Before the coffin was lowered into the ground, jets took to the blue skies above Qunu, in a final salute for democratic South Africa's first president.
African National Congress members, veterans of the fight against apartheid and foreign dignitaries, including several African presidents and the Prince of Wales were among the guests.
US talk-show host Oprah Winfrey and Virgin's Richard Branson were among the celebrities attending.
A long-time friend of Nelson Mandela Archbishop Desmond Tutu attended despite earlier controversy surrounding invitation. He told mourners Nelson Mandela "doesn't need a stone - he is in all of our hearts".