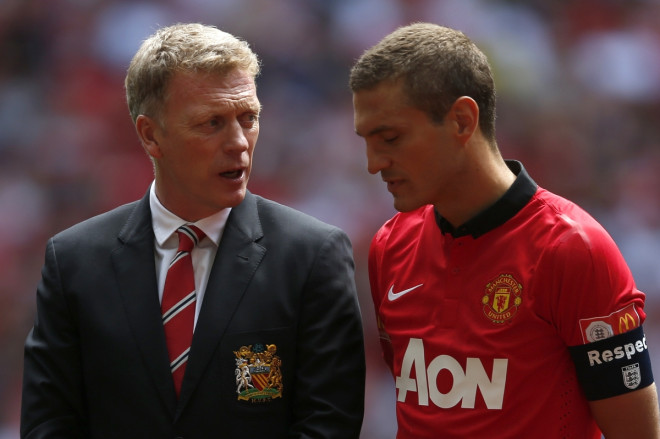 Manchester United skipper Nemanja Vidic has revealed that his desire to find a new challenge was the reason behind his decision to quit Old Trafford at the end of the season.
The Serbian defender's contract at the club runs down in the summer. The 32-year-old agreed to join Inter Milan on a free transfer from the next season.
Vidic was an integral part of United's back four since his arrival in 2006. The centre-back was a key player under Sir Alex Ferguson's time at the club and the same has continued under his successor, David Moyes.
"It was as late as January. Like the manager (Moyes) has said, it was a mutual decision. Sometimes, you have to accept it is time for a change. Time to fight for different things, to have a different challenge - and that is definitely going to happen in Italy," Vidic told Sky Sports.
The former Serbian international claims his decision to leave Old Trafford is not down to Ferguson's retirement.
"Not at all. It's just something that has happened as the season has gone on. Following a conversation with the manager, it happened that I decided to change leagues and play in a different country," he added.
Since the former Everton boss replaced Ferguson at United, the Premier League champions have struggled in all competitions this season. Vidic admitted that he was aware this campaign would be hard for Moyes' side.
United face Olympiakos in the second leg of the Champions League tie on Wednesday. The English outfit suffered a 2-0 defeat in Greece last month and Vidic remains confident his side can progress to later stages of the European competition.
"We changed manager, we changed director, the club is going through transition. The manager wants to build his team, his way of playing and, to achieve that, you need time. I knew it was going to be a hard season but I am surprised how it has gone. Hopefully, we can turn it around," Vidic explained.
"I'd rather be 2-0 down and then play Olympiakos at Old Trafford than have beaten Barcelona 1-0 and then have to go to the Nou Camp. I think we have a big chance to go through," the United star concluded.