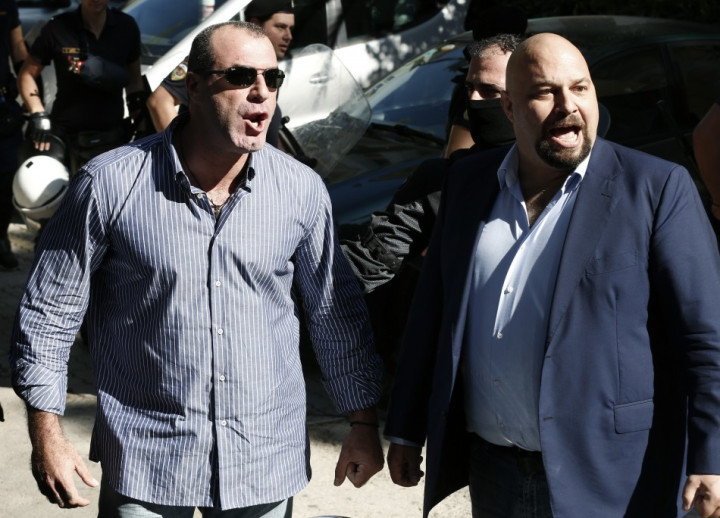 Three senior MPs from Greece's neo-Nazi Golden Dawn party have unexpectedly been freed in a criminal case triggered by the murder of anti-fascist rapper Pavlos Fyssas, nicknamed Killah P.
Following an 18-hour court session, Ilias Panagiotaros, Ilias Kasidiaris and Nikos Michos walked out of the court to the cheers and applause of supporters.
"We will not back down!" Michos shouted. "You can only stop us with bullets. Even from the grave, we will rise up - know this well!"
Kasidiaris, spokesman for the far-right party, was released on a €50,000 (£41,000) bail.
No bail was set for the other two, who were also banned from leaving the country. A fourth, Ioannis Lagos, was jailed pending trial.
"Golden Dawn, now stronger and more determined than ever, will continue its legal political struggle to free our land and people from the international loan sharks and domestic servants of foreigners," the party said on its website.
"Golden Dawn will not die - Greece will be victorious!"
Along with the four lawmakers, party leader Nikolaos Michaloliakos was arrested and is expected to appear in court later this week.
Killah P was stabbed to death outside a café in the Keratsini area west of Athens.
Police arrested a 45-year-old supporter of Golden Dawn, George Roupakias, over the killing and raided the party headquarters in the Greek capital. Another 21 people linked to the extremist movement were subsequently held by authorities and arrest warrants issued for 10 more.
Prosecutors allege that the attack against Fyssas was premeditated and the party leadership knew about the murder, as Golden Dawn operates according to a strict hierarchical command structure.
READ:
Golden Dawn Killah P Stabbing: Greece 'Has Hit Red Line'
Greece's Golden Dawn Plays Hitler's Nazi Anthem at Athens Food Handout
Greece: Neo-Nazis Golden Dawn Given 'Police Powers' over Immigrants
Greece: Golden Dawn Attack Sparks Protests
Golden Dawn Threatens to Pull out MPs and Trigger Destabalising Elections
Killah P Murder Protest: Golden Dawn Athens HQ in Lockdown as Demonstrators Try to Storm Building