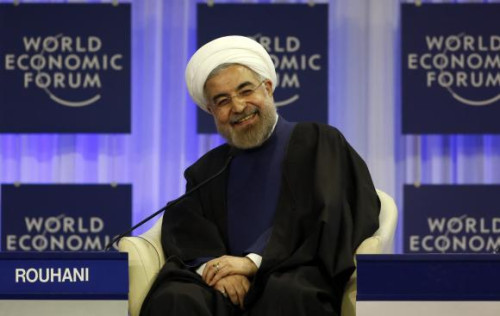 Israeli Prime Minister Benjamin Netanyahu said Iranian President Hassan Rouhani "is continuing with the Iranian show of deception".
The bitter comment came in response to a Rouhani's speech made in Davos, Switzerland, at the World Economic Forum.
Iran's president said that he aims for a constructive engagement with the West.
"Come and visit Iran to see the investment opportunities [..] I view Iran's economy as the most congruent, capable and most closest to successful emerging economies and I envisage Iran's place alongside them in the future," Rouhani said.
"Nuclear weapons have no place in our security strategy and Iran has no motivation to move in that direction," Rouhani added, showing that Iran wants to end its diplomatic isolation.
Netanyahu lambasted Rouhani's speech: "At a time when Rouhani condemns the killing of innocents, dozens of innocents were recently executed in Iran," Netanyahu said.
"At a time when Rouhani talks about a positive approach to technology, he prevents Iranians from freely surfing the Internet.
"At a time when Rouhani talks about peace with the countries of the Middle East, he refuses – even today – to recognise the existence of the State of Israel, and his regime daily calls for the destruction of the State of Israel.
"At a time when Rouhani claims that Iran is not interested in a nuclear project for military purposes, Iran continues to strengthen its centrifuges and heavy water reactor, and to arm itself with intercontinental missiles, the sole purpose of which is for nuclear weapons," Netanyahu continued.
Iran started on Monday curbing production of radioactive material under a deal with the International Atomic Energy Agency (IAEA).
Iran also pledged to halt enrichment of uranium above 5% purity and allow monthly inspections at the Arak heavy water reactor plant, which is designed to supply a research reactor.
The Iranian government also agreed to cease installation of more centrifuges and to provide daily access to Natanz and Fordo sites to IAEA inspectors and access to other facilities, mines and mills.
An end to uranium enrichment was part of a six-month deal struck with six world powers - China, Russia, France, Britain and Germany and the US - in November after intensive talks in Geneva aimed at preventing Tehran developing atomic weapons.
European governments have voted to suspend a number of economic sanctions.