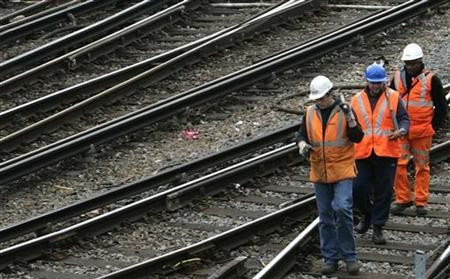 Network Rail, owner of Britain's rail infrastructure, posted better-than-expected profits in the first six months of the year despite regulators' concern that it is both failing to meet performance targets and to keep the trains using its railways running efficiently.
The Department of Transport recently announced a £9bn investment package for Britain's creaking rail infrastructure, which was built by the Victorians, such as electrification of some lines and improvements to the Northern Hub around Manchester.
It is hoped this will help improve performance on the railways and ease the concerns of the network's regulator.
"The railway continues to see strong traffic growth which provides us with the challenge of getting the balance right between capacity, reliability and efficiency," said Patrick Butcher, Network Rail's group finance director.
"We have seen growth on the network of 5 percent a year for a decade and this is set to continue. That means we continue to become more efficient so we can continue to invest to meet this growth."
Network Rail's profit after tax was £573m in the first six months of the 2012/13 financial year, up from £136m in the same period the year before.
Capital expenditure, which is the amount it invests in the railway, dropped by £7m to £2.064bn in the six month period.
The company's debts grew to £28bn from £27bn as it sought to sustain a similar level of investment in the rail infrastructure.
"We are increasingly concerned that Network Rail is not delivering for its passenger train customers in the long distance and London & South East sectors," says the Office of Rail Regulation's (ORR) website which details its latest assessment of the company.
The ORR also said it is "increasingly concerned" about Network Rail's punctuality in terms of train times.
Regulators took action against Network Rail in January because of persistent failure to meet punctuality targets for long distance journeys.
If performance does not improve by the end of the next financial year, it faces large fines.
London and south eastern punctuality has also been flagged by regulators as concerning.
"Our daily focus remains on running safe, reliable and efficient railway service for passengers and freight users alike," said Network Rail's Butcher.
"Whilst train punctuality is at high, historical levels Network Rail recognises that on parts of network performance is not as good as it should be.
"As we have before, we will continue to take any appropriate action to improve services."
---
Follow @shanecroucher