New $699 Wearable 'AI Pin' Launched by Tech Startup Can Reportedly Talk ChatGPT Powered Virtual Assistant
The AI Pin is intended to be less invasive, though just as capable, and something people can comfortably wear all day without ruining their hairdo.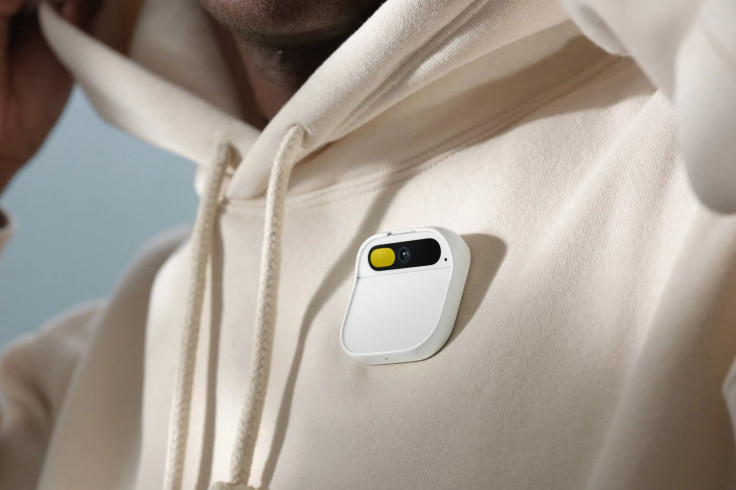 A wearable 'AI pin' has been launched by Humane, a Silicon Valley startup with a star-studded list of co-founders and executives.
The new device, which has a price point of $699, is designed to be worn on clothing and provide cutting-edge artificial intelligence in an instant.
It can reportedly be tapped to talk to a virtual assistant powered by technologies from ChatGPT-creator OpenAI and cloud computing power from Microsoft.
It utilises a laser projection system to display text and monochromatic images on the user's hand.
Humane's latest project is led by Bethany Bongiorno and her husband, Imran Chaudhri, who previously worked for Apple as a software engineer.
Their wearable AI pin is backed by global tech superpowers such as Microsoft, as well as OpenAI CEO Sam Altman, who recently announced a new GPT model and his own personalised AI store at his first-ever developer conference.
Humane revealed the device's look and basic functions, including web search and object identification, at the TED conference and in a Paris Fashion Week runway show earlier this year.
The Pin is one of the first of many wearable devices expected to launch in the coming months and years that are built around the kind of ChatGPT-like AI services now used by over 100 million people each week. Famed Apple designer Jony Ive is reportedly among the competition.
Humane CEO Bongiorno is confident of the Pin's mass appeal, calling it the world's first contextual computer. "AI now has become something that everyone is curious about and wants to know how it's going to change their life," she says.
"We're offering the first opportunity to bring it with you everywhere. It's touching people from every background, every age group, globally, in terms of what we're feeling and seeing in feedback."
Crucially, the pin differs from previous wearable smart devices such as smart glasses and AR headsets, which Humane's founders view as "barriers to human connection."
The Pin is intended to be less invasive, though just as capable, and something people can comfortably wear all day without ruining their hairdo. "We want to have powerful computing with us at all times, and that's really what it's about," says Chaudhri, the company's president and chairman.
"We want access to more knowledge, more information. We just want it in a way that allows us to remain present," he added.
The product represents the latest example of innovation built around AI technology, which is developing at a rapid pace.
Today, Elon Musk-led neurotechnology company Neuralink revealed it has received an overwhelming response to their request for volunteers to undergo implantation of Neuralink's brain chip.
It received approval from an independent review board to test its brain chip on paralysis patients in September of this year.
The company then posted a request for volunteers on its website and social media pages. It said that people with quadriplegia due to a cervical spinal cord injury and people with amyotrophic lateral sclerosis are also eligible for the trial.
And in a Twitter post today, Musk claimed they had already received "thousands" of volunteers willing to participate.
Musk, a tech billionaire who is actively involved in numerous AI projects, participated in an open discussion with UK Prime Minister Rishi Sunak last week.
Sunak had just hosted the world's first "AI Summit" in Bletchley Park, Buckinghamshire.
In the build-up to the conference, Sunak announced the establishment of a 'world first' UK AI safety institute.
The organisation will aim to "advance the world's knowledge of AI safety".
"It will carefully examine, evaluate and test new types of AI so that we understand what each new model is capable of," Sunak said in a speech at the Royal Society, an association of leading scientists.
Before this conference, his government announced a further £118 million investment in AI technology, which aims to "ensure the country has the top global expertise and fosters the next generation of researchers needed to seize the transformational benefits of AI technology."
© Copyright IBTimes 2023. All rights reserved.