An iPhone application used to control the Apple Watch has been comprehensibly leaked, revealing new features and settings for the upcoming wearable.
Called the Apple Watch Companion app, it will give users control over how their Apple Watch looks, how it tracks their daily exercise and how it deals with incoming notifications.
The app features a mock up of the smartwatch's home screen, letting users organise how their apps appear by dragging and dropping them into place on the iPhone app. There's also an as-yet unseen feature which lets users add a monogram of between one and four characters to the watch face - typically this would be their initials - to add a personal touch.
A stock price can be added to the watch face, appearing as a second dial showing either the current price, point change, percentage change or market cap.
Published by 9to5Mac, which has a strong track record for accurate Apple leaks, the iPhone app lets users set a number of pre-written text messages, which can be sent as replies from the watch itself - an example might be, "I'm out running, will call you when I get home".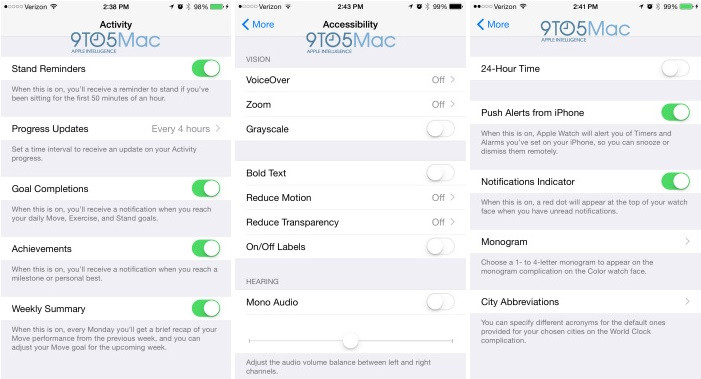 To save themselves from notification overload, Apple Watch wearers can set the device to only alert them to texts received from people in their contacts book, or to not show text alerts at all, and you can set how many times the watch alerts you to each message. How the watch notifies you with turn-by-turn directions can also be adjusted, by turning Taptic Engine (a vibration against your wrist) on or off.
A number of accessibility features are available for users with poor sight, such as being able to zoom in, turn off the interface animations, reduce transparency, switch to an all-grey screen, and enable bold text.
As for security, a four-digit passcode can be enabled; this is required to use Apple Pay, but once you have entered the code once you don't need to enter it again, unless you remove the watch, which knows when it's being worn. If your Apple Watch is stolen and the wrong passcode is entered 10 times, it will wipe your data.
Finally, Apple Watch uses its heart rate monitor and accelerometers to keep track of your daily exercise and calories burned. You can set the watch to encourage you to move after sitting still for a while, deliver reports on activity every four, six or eight hours, and alert you when activity goals are reached.
Announced in September last year, Apple says the Watch will go on sale "early" this year, with the release date expected to be sometime in March. It will be priced from $349 (£230), but the premium gold version is tipped to cost several thousand dollars. It is likely that the companion app will arrive alongside iOS 8.2 at the same time as the Watch goes on sale.