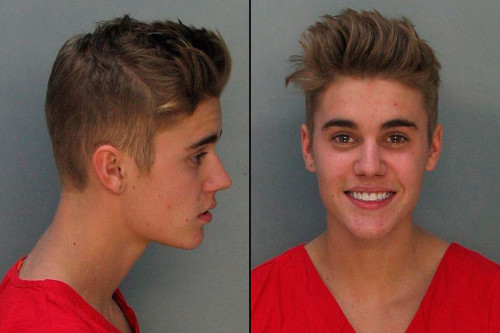 Teen pop sensation Justin Bieber is praying for divine intervention to right his many wrongs.
According to the New York Post, the 19-year-old star is keen to get closer to God after his recent run-ins with the law provoked a media storm and backlash from dedicated fans.
In January, Bieber was arrested and charged with driving under the influence, speeding, resisting arrest, and driving with an expired licence after he was stopped by police in a residential area of Miami Beach in the early hours.
He is scheduled to appear in court on 3 March after pleading not guilty to the misdemeanors.
His catalogue of transgressions includes; smoking marijuana, excessive partying, showing up hours late for concerts, keeping drugs on his tour bus and taking an X-rated photo with an adult dancer.
But it seems that the singer's latest brush with the law was the reality check he needed after months of questionable behaviour.
The Baby hitmaker is said to have already taken the first steps to turn his life around by attending church again. He is also allegedly looking for a venue in New York where he can be baptised through Hillsong NYC church, led by his close friend, Pastor Carl Lentz.
Bieber, who is a practising Christian, has spoken numerous times over the years about his faith.
Hours after posting bail he expressed his gratitude to God by simply tweeting:
"Justin is serious about his Christian faith, and after recent events, he needed to take a pause," a source told the New York Post's Page Six.
Baptism, either through sprinkling of water or full immersion, is observed by Christians who have decided to declare Jesus Christ as their lord and personal saviour.