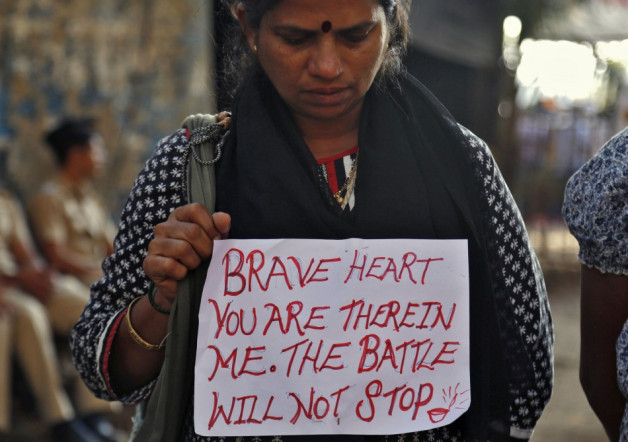 Thousands of people have rallied in the Indian capital of New Delhi to mourn the death of an unnamed 23-year-old gang rape victim in a Singapore hospital.
Peaceful protesters hit the streets of New Delhi in shock, raising slogans as police forces maintained a strict vigil. People turned out in large numbers despite police sealing off many areas and closing down metro services, the lifeline of Delhi. Hundreds of demonstrators held candlelit vigils in many parts of India, including the country's financial capital Mumbai.
New Delhi Chief Minister Sheila Dikshit faced the wrath of protesters and was prevented from taking part in the mourning but she lit a candle before leaving a protest venue.
Along with opposition and activist groups, many students participated in marches demanding stricter laws to tackle violence against women. "This is a moment of national grief. This is also a moment of national shame. We, as a nation, have failed to provide conditions in which women can lead a normal life without being subjected to indignities. We, as a society, have failed to evolve a culture of respect and equality for women," said Arvind Kejriwal, the head of the recently formed political party Aam Aadmi Party (AAP), an offshoot of the anti-corruption movement.
The AAP added: "This event and the subsequent developments have no doubt generated widespread outrage and justified anger. But today we must convert this into a positive resolve. Let us all resolve that we shall convert this moment into a movement to end all forms of violence against women. Let 'No Violence against Women' be out national new year's resolution."
A student group has also announced that it will hold a night vigil on New Year's Eve at the exact place where the female student was brutally raped by half a dozen men.
The victim's body is expected to be flown back to India from Singapore in the next few hours.
The prosecution is being fast-tracked so that the perpetrators are punished quickly. "The autopsy is being conducted by a Singaporean team. The report will be made available at the earliest and we hope to file the charge sheet by 3 January 2013. Section 302 which is the penal code for murder has been added.... a prosecutor of eminence has been appointed to fast track the case on a day-to-day basis," said Delhi's Special Commissioner of Police (Law and Order) Dharmendra Kumar.