Michael Flynn, President Donald Trump's former national security advisor, was paid more than $60,000 (£48,500) by Russia-linked entities during the presidential campaign, new documents obtained by a House Oversight panel have revealed. Flynn was fired in February after it was reported that he had spoken to Russia's ambassador to the US during the election campaign and misled Vice President Mike Pence about it.
The new documents reveal that Flynn received $56,250 (£45,000) for work completed for two Russian firms and RT, the Kremlin-backed news outlet. According to The Hill, Democrats on the House Oversight and Government Reform Committee have requested an additional investigation into the payments.
They have also sent a letter listing the allegations to the president as well as the leaders of the Pentagon and the FBI.
The former White House adviser had acknowledged he spoke at a December 2015 gala hosted by RT, but has refused to say how much he was paid for the engagement. The newly released documents show that the retired Army lieutenant general was paid more than $45,000 (£36,430) for his participation.
Leading Authorities, Flynn's speakers bureau, received a $11,250 (£9,100) payout, the documents show. His travel to and accommodation in Russia, where the event was held, were also covered.
Flynn was working on a volunteer basis as a military adviser to Trump's campaign at the time, The Hill noted.
The documents also show Flynn was paid $11,250 by Russian airfreight company Volga-Dnepr Airlines in August 2015. The firm was suspended from the list of approved vendors by the United Nations following a corruption scandal involving an indicted Russian UN official. Flynn's spokesman said the payment was for a speech given in Washington DC.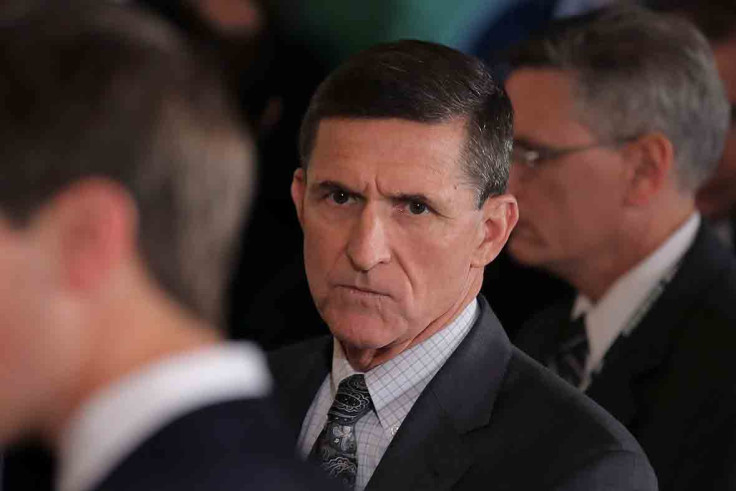 In October 2015, Flynn received another $11,250 from a subsidiary of a Russian firm, Kaspersky Lab, that specialises in "uncovering Western government spyware". According to The Washington Post, the cyber firm said the payment was also for a speech Flynn gave in Washington DC.
The Hill noted that Flynn, who had been fired as director of the Defence Intelligence Agency in 2014, had top-level security clearance when he worked for the firms in 2015. His security clearance was suspended in February, pending review.
Flynn filed paperwork earlier in March with the Justice Department indicating he had worked as a foreign agent during his time as a top adviser to Trump's campaign. Flynn's company, Flynn Intel Group, received payments from a Netherlands-based firm owned by Turkish businessman with ties to the Turkish government.