New Ford Mustang Revealed: Coming to UK and Europe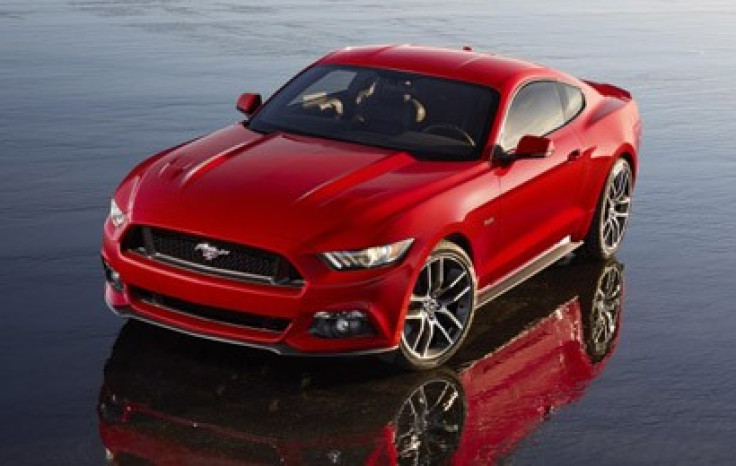 Ford has unveiled the new Mustang, which will go on sale as a right-hand-drive version in the UK for the first time in the car's 50 year history.
To be released on 17 April, 50 years to the day after the first Mustang was launched in the US, Ford's blue-collar musclecar has undergone some major changes as it enters its sixth generation.
Retaining the previous model's retro styling familiar to all who remember the Mustang driven by Steve McQueen in Bullitt, the new car has adopted a more European-friendly character, both in terms of design, and its powertrain.
Firstly, although the car was launched in Barcelona, it will not arrive in the UK and Europe until around 18 months after its April 2014 US launch.
Ecoboost
In a brave move which will no doubt upset the purists, the 2015 Mustang which comes to the UK and Europe will be powered by a 2.3-litre four-cylinder Ecoboost engine. Producing 305 horsepower and 300lb ft of torque, the engine should be more potent than its size lets on, but Ford had little choice in resorting to Ecoboost technology amid growing pressures across Europe to reduce emissions.
Joining the four-pot Ecoboost model will be the more familiar Mustang power plant - a 5.0-litre V8 with "over 420bhp" which will be upgraded to produce 500bhp within 18 months of the car's April launch.
There will also be a mid-range 3.7-litre V6 with 305bhp, but this model will not be coming to the UK.
Part of the company's One Ford mission statement, the Mustang's first official visit to Europe will be seen as a milestone moment as the company moves forward - and a milestone in particular for the Ford's Ecoboost, proving that just because an engine is environmentally friendly, it doesn't have to be limited to small city cars like the Fiesta.
"This EcoBoost engine delivers where a Mustang driver expects it to with a broad, flat torque curve that pours out when you stand on it for easy passing or hustling down a twisty road," said Dave Pericak, Mustang chief engineer.
All engine options can be ordered with either a six-speed manual or automatic gearbox, both with optional steering wheel-mounted paddles. A 10-speed automatic is in development, but is still two years away.
Passion
"Ford Mustang inspires passion like no other car," said Raj Nair, vice president of Ford's Global Product Development division. "The visceral look, sound and performance of Mustang resonate with people, even if they've never driven one. Mustang is definitely more than just a car - it is the heart and soul of Ford."
More than nine million Mustang's have been sold since its launch in 1964, and Ford claims the car is the "most-liked" on Facebook; the car has appeared in countless films and television programmes throughout its lifetime.
The sixth generation Mustang is one of 25 new vehicles the manufacturer plans to launch in Europe over the next five years.
"The Mustang's formidable reputation for performance and its iconic status as a symbol of freedom and optimism precedes it even in those parts of the world where the car has never been sold," said Stephen Odell, Ford executive vice president, Europe, Middle East and Africa. "The new Mustang epitomises Ford's aggressive product acceleration; technologically advanced and forward-looking, but without forgetting the heritage that has inspired Ford customers for generations."
Lower, sleeker, wider
Although retaining the previous model's blunt and purposeful looks, the new Mustang is lower and wider than before, with thinner A pillars and narrower front and rear light clusters all adding up to give the car a more European style.
Often criticised by Europeans for offering softer handling which lacked the sharpness this market has come to expect, the Mustang gets all-new front and rear suspension with uprated geometry, springs, dampers and bushings, all specifically modified on the European version to deliver the sharper handling prefered by European sports car buyers.
The uprated suspension will also help to reduce roll and scuttle shake in the new convertible model, which has been developed alongside the hardtop and will also go on sale early next year, but more details haven't yet been announced.
Technology
Part of the chassis improvements are also down to the car's computer, which can be adjusted on-the-go with toggle switches on the centre console. Adjustments can be made to the car's steering, engine response, gearbox and electronic stability control.
Finally, the new Mustang gets Ford's SYNC computer system with voice controls and an 8in touch screen for controlling the car's satellite navigation - updated to include Europe - and entertainment features, delivered through a 12-speaker sound system.
Release date and price
The new Ford Mustang will go on sale in the US in early 2014, and will be rolled out across Europe over the following 18 months. Although prices are yet to be announced, we expect to see the UK model start at around £30,000. This puts it up against rear-drive coupes like the Nissan 370Z and Toyota GT86 - any more expensive, and the big Ford will run into stiff competition from BMW, Audi and Mercedes.
© Copyright IBTimes 2023. All rights reserved.