Google accidently posted a walk-through video of its upcoming Gmail redesign, before quickly removing the video from its YouTube page.
The video shows a new, cleaner layout that can automatically adapt to fit into any size window and there are also manual options to resize the Labels and Chat windows, as well as altering the density of how components are laid out on the page.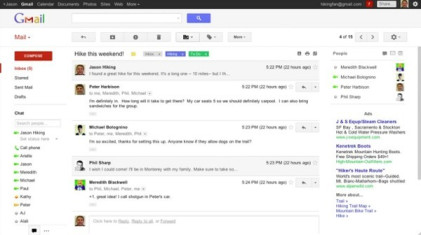 Threaded conversations have been made to look more like an instant message conversation - with profile pictures included with each message.
In addition, the new Gmail features advanced search options and filtering prominently displayed in a drop-down menu from the search box. Themes are also getting an update, with a range of high resolution images available to compliment the simplified user interface.
Some users have been previewing the redesigned Gmail since June, but until today it was unclear as to what the full revamp will have in store; the leak of this walk-through video would suggest that the redesign is finished and ready to roll out soon.
Check out the video below: