Amazon has launched the new smaller, lighter Kindle and has priced the ebook reader at just £89 and available today.
In an announcement that saw four new Kindles introduced, CEO Jeff Bezos unveiled the new Kindle, which is 18% smaller than its predecessor, thanks to smaller buttons and omission of the rarely-used keyboard.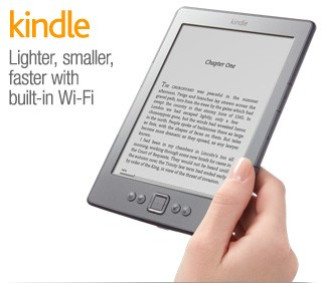 The new Kindle 4th generation is also a massive 30% lighter than the old model - which is still sold under the name Kindle Keyboard.
Taking design cues from the Nook ebook reader, the new Kindle is light grey in colour and keeps the same 6 inch screen as the old model. Books can be downloaded in less than 60 seconds thanks to Wi-Fi, although 3G is not included on this model.
Boasting 10% faster page turns for seamless reading, the new Kindle aims to reduce the annoying screen flash after each page turn, a trait of all e-ink screen. Up to 1,400 books can be stored on the Kindle's 2GB internal memory.
The new Kindle is even cheaper in the U.S, starting at $79, but this model includes advertisements. These adverts appear as screensavers when the device is locked, so they don't interfere at all with reading. The adverts are also targeted by location, so the advert will be relevant to where the user is.
Unfortunatly, the UK Kindles do not feature these advertisements, resulting in the high retail price.
The new Kindle is available to buy now.