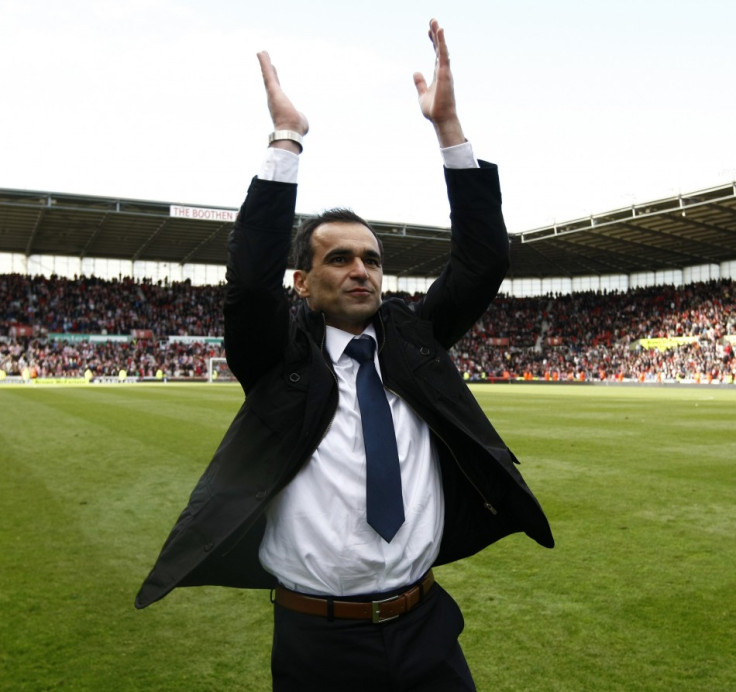 Liverpool have denied Wigan Athletic chairman Dave Whelan's claim the Reds have offered Roberto Martinez the managerial post at Anfield, according to reports.
Whelan earlier revealed the Reds' owner John Henry had offered Martinez the job during the meeting in Miami.
"Roberto has had a constructive meeting with Liverpool. He returns to London on Tuesday, when he will have further talks with Liverpool and when a decision will be made. He [Martinez] likes to run the football side, and I can see Liverpool's point of view about the amount of money spent on players. If they agree to let Roberto take responsibility for the transfers than I think he will go there," ESPN quoted Whelan as saying.
"I think what he has said is, 'Thank you for your offer but I only work under the following rules: I have to have complete control of football. That's normally the way in England, that's how we all work. I think they're considering his request and Roberto's considering their offer and they're going to talk again on Tuesday," the Wigan chairman added.
However, the Anfield hierarchy are said to be stunned by Whelan's remarks and have stated they are yet to offer Martinez the job, according to reports in the Mirror and the Daily Mail.
Liverpool had indeed held talks with Martinez and the Spaniard is considered the favourite to nab the position at this point. However, the club's owners - the Fenway Sports Group - will go ahead with their plan to approach the 12 candidates they have identified before making the call.
Meanwhile, England and Liverpool captain Steven Gerrard says there are no divides within the national squad, despite the recent racism controversy involving John Terry. Previous reports suggested Manchester United veteran Rio Ferdinand's snub from the Euro 2012 squad was due to problems between the centre-back and Chelsea skipper John Terry, who will stand trial after the tournament for allegedly racially abusing QPR defender Anton Ferdinand - Rio's brother.
"It's false. We're united, we're together, we're all after the same thing and that's to win. There's no divides and we'll make sure there's no divides because it's something that we don't need," Sky Sports quoted Gerrard as saying.
The 31 year old will lead England against Norway in the friendly on Saturday night and his Liverpool team mate Andy Carroll is also poised to start the match, which will be Roy Hodgson's first game in charge.
"It's nice to be named the official England captain, a fresh start with a new manager and everyone is really positive. I got on fantastically well with him [Hodgson] at Liverpool. He took the Liverpool job in difficult circumstances. The majority of our supporters wanted Kenny Dalglish in from day one and Roy had a tough job, but I can assure everyone he's a great manager, a winner and he can have a successful time as England manager," the Reds skipper added.