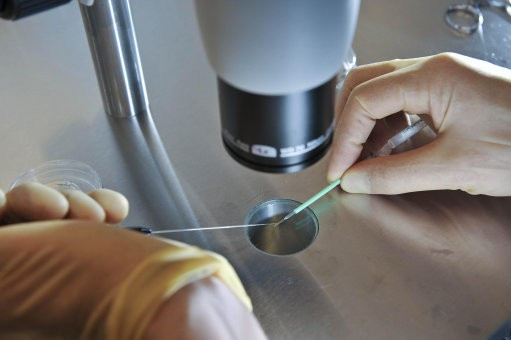 Researchers have invented a new equipment design that will increase the chances of a woman getting pregnant through IVF.
Researchers from the Newcastle University have created the innovative design that is interlinked to incubators. The equipment provides a totally enclosed and controlled environment within which every step of the IVF process can be performed.
Traditionally, in IVF procedures, embryos are cultured in incubators, which provide a controlled environment. However, it is necessary to check embryo development under the microscope. This generally involves removing them from the controlled environment of the incubators, which may be harmful. The system developed by the Newcastle team overcomes this problem by enabling all procedures to be conducted within an enclosed and controlled environment.
Initially the new system was tested extensively to make sure that it maintained stable environmental conditions (for air quality and temperature). Subsequent studies on embryos donated to research showed a significant increase in the proportion of embryos developing normally over a period of six or seven days, according to a press release from Newcastle University.
Researchers had implemented this equipment in laboratories at Newcastle Fertility Centre at Life. They compared the treatment outcomes over a period of three years and found that IVF patients had a 45% chance of getting pregnant, compared to the old system.
"Our aim was to keep eggs and embryos in conditions similar to those they would experience naturally - inside a woman's body. This led our team to design and develop a system in which it is possible to perform all of the technical procedures while maintaining stable conditions throughout the IVF process," said Mary Herbert, professor at the Newcastle University said in a statement.
Alison Murdoch, Professor of Reproductive Medicine at the Newcastle Fertility Centre at Life said growing good embryos is the key to IVF success. According to him, everyone, even those who have a very small prospect of success, deserve to have the best possible chance. Since installing this new technology, over 850 babies have now been born, he said in a statement.