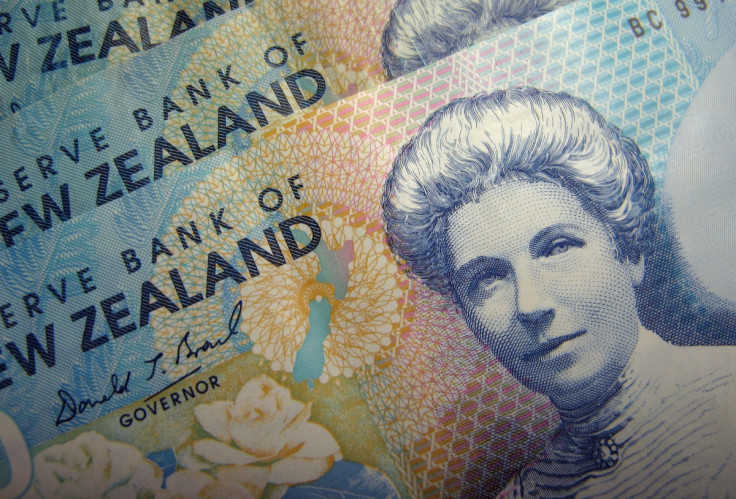 New Zealand's currency held near a five-year low against the greenback on Tuesday (7 July) as a survey report lowered its economic growth expectations and suggested more rate cuts in the current year.
The NZD/USD dropped to 0.6667 from near 0.6687 when the NZIER survey report was released. The pair had traded as low as 0.6645 on Monday, its lowest since June 2010.
So far in July, the kiwi dollar has weakened more than 2%, adding to the near 11% decline over the previous two months.
"The drop in activity indicators in the June 2015 quarter points to annual growth remaining below 3% over the coming year – a marked drop from the 3.5% annual growth we saw at the end of last year," the NZIER quarterly report released on Tuesday said.
The NZIER said business confidence fell to the lowest level since September 2012.
The survey showed that domestic trading activity, which closely mirrors GDP growth, dropped from 19% in the March 2015 quarter to 10%. "This is consistent with annual GDP growth remaining below 3% for the year to June 2015."
As per the June quarter survey, capacity utilisation has risen to a record high, but inflationary pressures remain weak. Only a net 1% of businesses reported raising prices over the past quarter – a level not seen since early 2009, the NZIER said.
As per the 20 April data, New Zealand's inflation rate has fallen to a 15-year low of 0.1% on a year-on-year basis. The next data release is on 18 September. Before that, the 23 July rate decision by the Reserve Bank of New Zealand will be of importance.
The country's GDP growth has fallen to a one-year low of 2.6% in the first quarter of this year. Second quarter data will be out on 22 July.
"These results suggest further interest rate cuts for the remainder of 2015," the report said.
Asian shares mixed
Asian share indices traded mixed with Chinese and Hong Kong stocks down and Japanese scrips up. The benchmark New Zealand index NZX50 was up 0.26% at 5:30 GMT. India was up while Korea and Indonesia were down.
The euro has been trading weak and the dollar index up amid the ongoing Greek drama but the shared currency has been showing resilience amid optimism that some solution will work out at the EU summit scheduled for today (7 July).
The EUR/USD has fallen 1.5% so far this month reversing the 1.3% gain of June, but holds well above the 12-year low of 1.0462 touched in March.
Similarly, the dollar index has risen more than 1% so far in July, partly reversing June losses, but still far from the above-100 levels seen in March.