New Zealand dollar settles at 5-year low as rate cut impact stays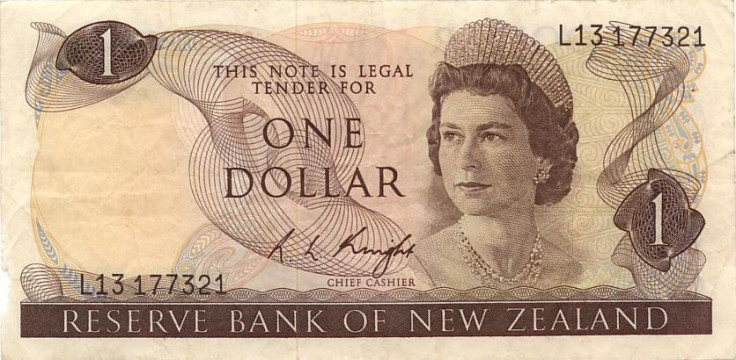 The New Zealand dollar is heading for its monthly close below the 0.70 mark against the US currency following the surprise rate cut and weaker than expected GDP data that came earlier in June.
Big picture charts suggest the currency pair has further downside room before a rebound within the downtrend dating back to July 2014, when it slipped off a multi-year high.
NZD/USD traded a range of 0.6900-0.6846 on 24 June, only slightly off the previous day's low of 0.6814, which was its lowest since July 2010.
The Kiwi dollar has fallen more than 4% so far in June adding to the 6.7% slide in May. Overall, the decline started off almost a year ago has weakened the NZ currency by more than 22%.
On 11 June, the Reserve Bank of New Zealand slashed the benchmark interest rate by 25 basis points to 3.25% unexpectedly, and a few days later, official data showed the country's economic growth slowed much more than expected.
The central bank said further easing may be appropriate though added that such a move will be data-dependant. The statement showed the policymaker is concerned about the slide in export commodity prices as well as weaker prospects of dairy prices.
New Zealand's GDP growth in the first quarter was 2.6% from a year earlier, sharply down from 3.5% in the fourth quarter of 2014 and compared with analysts' expectations of 3%. Quarterly rate fell to 0.2% from 0.8% trailing consensus of 0.6%.
The market is now waiting for the May trade data due on 26 June. Analysts expect the balance to swing to a deficit of $100m from a surplus of $123m. On an year-on-year basis, the deficit is forecast to have widened to $2.9bn from $2.62bn.
Charts suggest NZD/USD has room up to 0.6550 in the south before a rebound in the channel, which would then eye 0.7400 as a channel resistance. On the way, 0.7100 will be a level to watch.
A break of 0.7400 will shift the focus to 0.7700, which will weaken the downtrend since July 2014. Still, only a break of 0.8300 will bring back the multi-year uptrend that had ended last year. However, 0.8050 will be a level to watch on the way.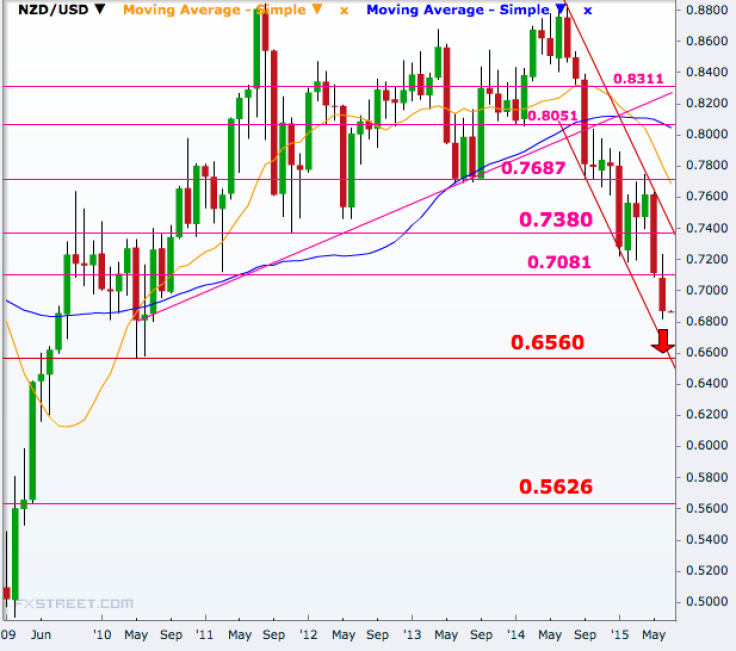 © Copyright IBTimes 2023. All rights reserved.