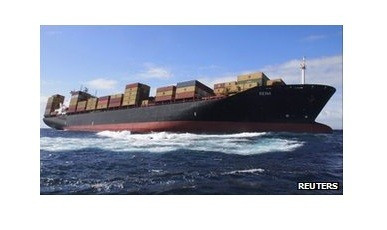 A 47,000 tonne container vessel containing heavy fuel oil is leaking its contents after striking a reef off the coast of New Zealand.
The ship has over 1,700 tonnes of fuel aboard and the contamination has already extends to over three miles. Four seabirds have already been found dead in the oil.
Maritime New Zealand has release a statement calling the ship "hazardous," although they weren't sure exactly how much oil was leaked. The hazardous status gives the authority for Maritime NZ to intervene in salvaging the ship if required.
The on-site controller, Rob Service there were plenty of precautionary actions underway.
"We are not aware of any actual breaches in the fuel tanks. However, because of the extensive damage to the vessel, it is difficult to determine accurately what is the scale and scope of the damage," he said.
Two wildlife rescue centres have been set up to help resolved the issue and one of the teams technical advisors, Bill Dwyer said: "The rescue equipment wasn't as suitable as it could have been. This can be used in all sorts of configurations. It can be ramped up if the spill gets worse."
Local wildlife expert, Bob Makelow said volunteers from all over New Zealand were coming to help with the effort. When asked how long it would take to clear up the oil spill, Makelow was unsure of how many seabirds would be affected, however he did say "It takes about 20 minutes a bird."