Alan Pardew still believes that he is the right man for the job at Newcastle United despite seeing his side suffer an embarrassing 6-0 home defeat to Liverpool on Saturday.
The Chronicle has reported that current Chelsea boss Rafa Benitez had been touted as a possible replacement for Pardew who has endured a difficult season which could yet worsen if Newcastle slip into the relegation zone.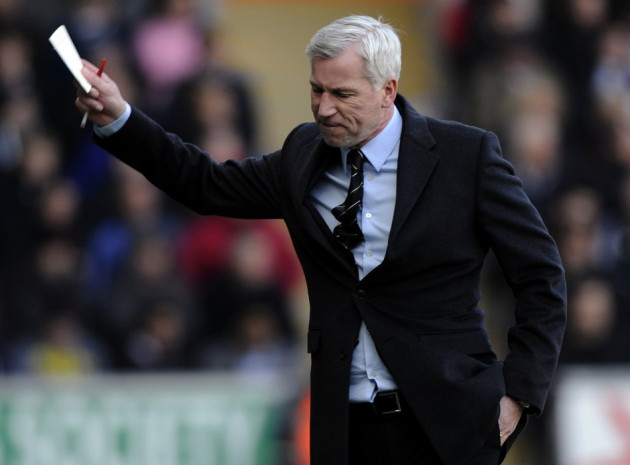 With Queens Park Rangers and Reading already down, Wigan will be hoping they can claw their way out of the bottom three in their next four games in order to heap further pressure on Newcastle, Sunderland and Aston Villa.
Newcastle are just five points ahead of Wigan, who also have a game in hand, and have an inferior goal difference to Villa and bitter rivals Sunderland. They will be desperate to gain a win on Saturday against West Ham United, the club that sacked Pardew back in 2006, which would take some pressure off their remaining games away at QPR and at home to Arsenal.
Asked whether he still felt he was still the right man for the job, Pardew told the Chronicle: "Yes. We've had a really, really poor month in terms of results.
"Now we have to stick together and get through it. As I've said before, words don't win games. They're not important any more. The performance we put in was unacceptable.
"It wasn't good enough for us. We're aware of that, and we need to put it right."
With Benitez making it clear that he will leave Chelsea at the end of the season there is likely to be increased speculation over the summer months, even if Newcastle manage to avoid relegation.
Having finished the previous campaign in fifth place and qualified for the Europa League, it has been a bitterly disappointing season for Newcastle United fans.
Some may have thought they were safe after Papiss Cisse scored a last minute winner against Fulham on April 7 but they have picked up just one point since that crucial goal.
And Pardew admits there is still plenty of work to be done, adding: "Even after Benfica, a few of the players perhaps thought after that game we'd be all right.
"But we've got one point from three league games, and that's not good enough for this football club.
"Now we're in a dogfight, and we've got to fight. We've got enough character and belief in that dressing room to get through it. We've got to show that now."