Cheick Tiote has insisted that he is committed to Newcastle for the long haul, and will shrug off any interest from big-spending clubs as the summer rolls around.
News outlets have connected the midfielder with possible moves to Chelsea and Manchester City in recent times, while the Toon have said that they hope to hold onto the star beyond any big-money offers.
But Tiote insists that his long term future will definitely be at Newcastle, and he won't be bothered by transfer speculation in the lead up to summer.
"I'm a Newcastle player - my future is at Newcastle," he told the Sun.
"I'm playing for Newcastle, and I have to finish this season strongly and help the team get into Europe.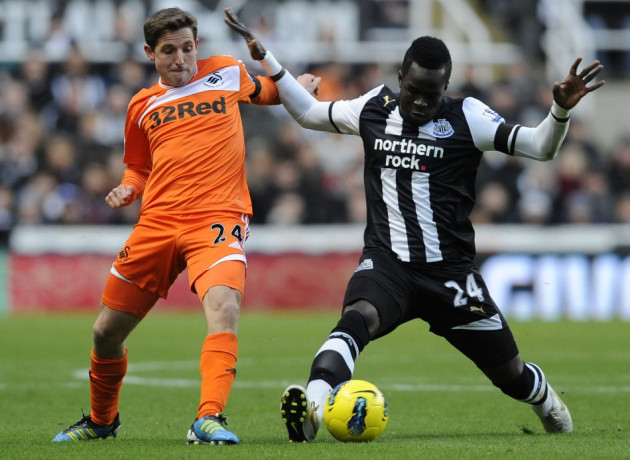 "If we do that, it will be good for the club and the fans. We're in a great position now."
Newcastle are currently fifth in the Premier League table, and moved one step closer to Europa League football after Liverpool defeated Everton in the FA Cup semi-final.
With Liverpool already guaranteed a spot in the European completion, and Chelsea looking at a possible Champions League place, Newcastle have a chance of getting through should they finish as close as possible to the top four.
And after undergoing big changes over the past few transfer windows, including losing the likes of Andy Carroll, Kevin Nolan, Jose Enrique and Joey Barton, the club's achievements haven't been lost on football fans and pundits alike.
Meanwhile, Alan Pardew says he hopes that if Newcastle make the top four, Chelsea don't win the Champions League and take their place in the top tier competition away, with the Toon manager admitting he's choke on his beer if that happened.
"Chelsea haven't won it yet. But it makes it very interesting that third place, doesn't it? If Arsenal and Tottenham get very nervous, that's a good thing," he told Sky Sports.
"I'll choke on my beer if Chelsea win the Champions League and we finish fourth, for sure. But the rules are the rules," added Pardew.
"I really think we'll achieve something special if we finish fifth or sixth. Any higher than that would be astounding really but I think we've got a real chance.
"The Champions League is something that really we shouldn't be competing for, but we are, and we are going to go for that as best we can.
"We are batting well above our level in terms of the teams and the salaries and transfer fees that these other clubs have paid. We shouldn't even be anywhere near them but a couple of the other sides have got a bit edgy. We haven't shown any signs of that - and hopefully we won't.
"What I do know is this European qualification is about as complicated as it gets. We need Carol Vorderman to work it out."