Newcastle's Toon Army Top Table of Premier League Bad Boys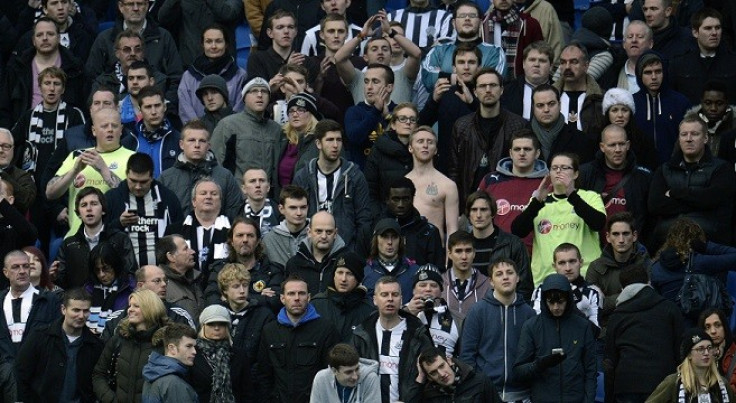 The number of arrests at football grounds in England and Wales rose 4% last season with Newcastle United topping the table of offenders, according to government statistics.
During the 2012-13 season, 175 Newcastle fans were arrested at home and away matches, 114 of which were for violent disorder, the Home Office said.
Following the Magpies 3-0 derby defeat to Sunderland in April, 29 Newcastle supporters were arrested in clashes in the city centre, including one man for punching a police horse.
Manchester United were second with 145 arrests, 80 of which were for alcohol offences, with Championship side Leeds United next on 101.
Manchester City and Chelsea make up the top five, with 95 and 92 arrests respectively.
Elsewhere, League Two teams Accrington Stanley, Dagenham Redbridge, Fleetwood Town and Wycombe Wanderers were the only teams in the league to not have a supporter arrested at any game last season.
In total, there were 2,456 arrests across all international and domestic football matches involving teams from, or representing, England and Wales. This represents a slight increase of 4%, or 91 arrests, from the 2011-12 season - which had the lowest total on record.
Of these arrests, 1,762 were in the football league, with the remaining 694 occurring at other regulated matches such as FA Cup games, internationals and European games.
More than 100,000 English and Welsh club fans travelled to Champions League and Europa League matches outside of England and Wales.
These 44 matches resulted in just 20 arrests of away fans - 17 Manchester City and three Tottenham Hotspur supporters.
In total, more than 39 million attended regulated football matches involving English and welsh teams last season, meaning the total number of arrests represents less than 0.01% of the total - or one arrest for every 14,000 spectators.
The Home Office added that 58% of all matches last season were police free and resources only utilised if it is necessary to make an arrest.
© Copyright IBTimes 2023. All rights reserved.