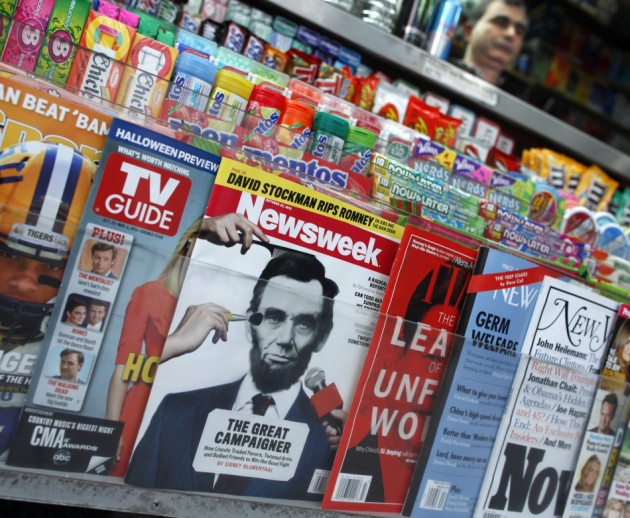 The fate of print publications has been thrown into the spotlight this week, after Newsweek announced it is abandoning its print edition after 80 years of circulation and rumours of the UK's The Guardian shutting its newspaper were rife.
While The Guardian was quick to quash the rumours, Newsweek announced it was saying goodbye to print and hello to solely to online but critics immediately remarked how it was a bad move for business and for advertising revenue, despite most of them being primarily online journalists themselves.
However, Newsweek, like most of its print magazine counterparts, has suffered a plunge in circulation, a plummet in print advertising revenue but growth across both factors for online.
Its final print edition will be published on 31 December this year.
According to Publishers Information Bureau data, Newsweek's print advertising fell by over 70 percent from 2007 to 2011. Its circulation is also under 50 percent of what it was 5 years ago.
Meanwhile, Baba Shetty, CEO of The Newsweek Daily Beast Co said that thedailybeast.com's traffic to was up 70 per cent in 2012, with online advertising revenues moving up in tandem by 40 per cent.
While its traffic is still half of time.com, the online version of Newsweek's rival Time magazine, Time has also suffered at the hands of digital evolution, with its print advertising falling 20 per cent to $419m.
With company and industry statistics like these, it would seem logical to move to online only.
However, when the news was announced the web was flooded with criticism over how it won't survive and the quality of journalism would diminish.
I couldn't disagree more.
'Romance of Print'
On Newsweek's 18 October announcement, Tina Brown editor-in-chief of The Daily Beast and Newsweek said "exiting print is an extremely difficult moment for all of us who love the romance of print and the unique weekly camaraderie of those hectic hours before the close on Friday night."
That one sentence is more profound than she probably realised at the time.
Journalism has evolved beyond recognition from 20 years ago and the way readers digest copy has radically evolved beyond the physical piece of paper; it's on your computer, your smartphone and your tablet.
This may seem like an obvious statement to make but while technology has become more complex and fast, delivering news to a globalised audience at lightning speed, many editors and journalists' mindsets haven't caught up and many refuse to jump on board.
One friend, who had regularly been printed in the Wall Street Journal but also regularly filled the WSJ's online service with exclusives and widely read articles, said "whenever I got printed in the paper, people would exclaim how fantastic that was, but when I printed an even better story online, people didn't seem to care as much."
The anecdote is rather indicative of how online journalism is still behind in the respect stakes.
Across many publications, business-to-business, business-to-consumer and a little less so with consumer, there has been an inherent sense of entitlement that print means quality and online means less worth.
While The Huffington Post initially evolved from an aggregation model, over the years it has published some ground breaking magazine type features, including a Pulitzer Prize winning series on the lives of severely wounded veterans and their families - "Beyond the Battlefield" - from its military correspondent David Wood.
However, despite this, many publishing houses continue to refuse to shirk off their 6000 word features in a monthly magazine that no one buys anymore and embrace what the readers actually want - digital content.
Cutting Off Your Nose to Spite Your Face
While Newsweek's biggest challenge, when it moves online, will be maintaining a subscription model, it could save a substantial amount of money with the switch.
Reports say Newsweek has been losing around $20m a year and has suffered from steadily declining subscribers.
While I believe that Newsweek focusing on digital is the best step it could have taken considering the circumstances, other brands should also consider.
It is no surprise that many brands are moving to digital and you can't feel too sorry for organisations that refuse to embrace online and social media. It's stubbornness and a refusal to evolve with the industry that is killing journalism, not digital itself.
For many, it's like seeing a madman standing on the beach, refusing to retreat because he believes the tide won't come in and wash him away.
Print newspaper ads have tumbled over the last 20 years, in tandem with the rise of digital. Print ad spending in the US tumbled from $60bn in the late-1990s to $20bn in 2011.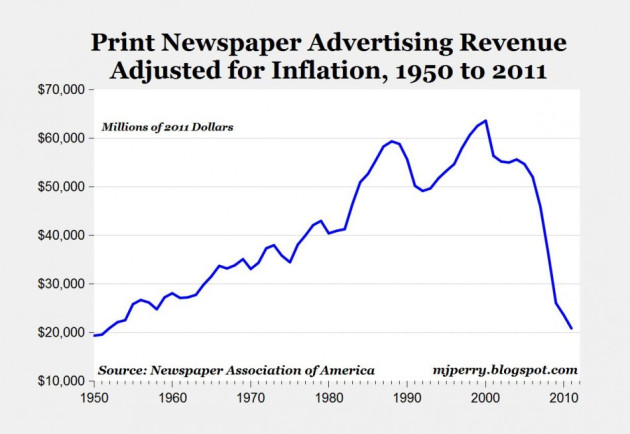 And it doesn't get any better for US magazines either.
According to Publishers Information Bureau (PIB) data, magazine advertising pages fell almost 26 percent in the first quarter this year and only 15 magazines tracked by PIB had more ad pages this quarter than they did the previous year.
Print publications and newspapers have had plenty of warnings but many publishing houses have chosen to ignore the rise.
PwC data shows that internet advertising and online advertising revenue have been steadily building before and since the credit crisis.
That advertising revenue stood at $8.1bn in 2000 and subsequently reaching $21.21bn in 2007.
Meanwhile, online advertising grew by 28 percent in 2011 year on year and by 27 percent so far in 2012 and is expected to grow by another 17 percent in 2013 and 11 percent in 2014, says Comscore.
And it gets even better for online and social media spending.
Research firm BIA/Kelsey says, spending across US social-media advertising is predicted to rise to $9.8bn in 2016.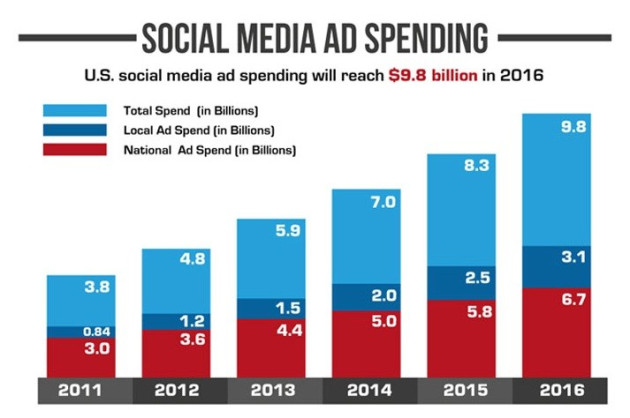 Those Who 'Get it' and Those Who Don't
There will always be a place for print and in the case of weekly magazines, as Time and the Economist have proven; you can have both, for now.
Richard Stengel, managing editor of Time Magazine has acknowledged that the print edition is far more costly, but said it still serves as "the center piece of the brand." However, I am assuming this will have to be revised, should the company bleed money, as its rival Newsweek did.
The Economist, which is 50 percent owned by the FT Group, actually saw print advertising revenue rise by 20 per cent to $126m.
However, this is the sticking point.
It is not a question of digital versus print, nor is it a case of digital destroying print journalism; it is recognising whether how your brand should evolve if revenue and readership call for it.
While some may flourish under the dual format approach, in the case of Newsweek, it would be in their better interests to concentrate online.
Elsewhere, The Economist and The New Yorker have both kept their print publication but has ramped up efforts to build a strong digital product around this.
Business-to-business journalism still suffers the most from letting go of tired old formats, as many publishers are hanging on by their fingernails to hugely expensive monthly magazines for bankers that either do not either or subscribe to anymore, since the credit crisis.
Reaching the Readers
The rise of digital journalism has led to some predominantly UK newspapers to break into the US.
The latest Comscore data shows that in December 2011, the UK's Daily Mail online product, MailOnline, recorded 45.348m unique visitors, beating the New York Times which had 44.787m.
While the MailOnline has arguably built its soaring visitor volume from aggregation and celebrity news, the Comscore data also shows that broadsheet and magazine style journalism has a firm place in the wider industry.
The Guardian came in third, as the world's most read newspaper website, with 30.4m readers in June 2012, which it says is an immediate response to its adopted 'digital-first' strategy it implemented in June the previous year.
This was boosted by a digital-only US newsroom in September 2011.
Poignantly, Janine Gibson, editor-in-chief of Guardian US said "putting our online news service first has enabled us to build a huge global audience that shares our progressive values. Many things have changed since the Guardian published its first newspaper in England on 5 May 1821 but our commitment to rigorous, courageous, journalism isn't one of them and our audience has grown because of that commitment to our core values. The US now accounts for around one-third of our total global readership."
Although rumours of the Guardian ending its print edition were quashed almost as quickly as they arose, I would ask, whether it actually would be the right move to take.